About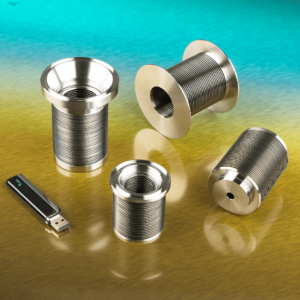 BellowsTech, an MW Industries company, is a premiere US manufacturer of high quality, dependable edge welded bellows and assemblies. Engineers in Aerospace, Medical, Semiconductors, UHV, and Oil and Gas industries rely on BellowsTech products for the highest cycle life, responsive design, wide material selection and leak tight performance. BellowsTech builds partnerships or a full production run. They can manufacture in all sizes, shapes and material combinations to fit their customers' unique applications. With proprietary welding, in-house tooling and machining, and custom solutions, BellowsTech can supply a completed assembly with the best price to performance ratio in the industry. They excel at new designs with custom capabilities and short lead times and also offer repair and replacement services. BellowsTech is ISO 9001:2008 certified and AS9100-C Compliant and is dedicated to overall customer satisfaction.
BellowsTech metal bellows provide the most flexibility in the smallest amount of space of any bellows technology on the market. Our welded metal bellows are engineered to allow for maximum flexibility in axial, angular and parallel offset motion. They provide a hermetic, all metal pressure barrier and seal that flexes in one or more directions.
At BellowsTech it's all about the complete solution. We have the know-how to develop bellows, and bellows assemblies that are optimally tailored to fit your installation or assembly requirements. Choosing from a wide assortment of standard dies we an customize the form, fit and function of our bellows based on such requirements as media compatibility, extension and life cycle. Does your bellows need to be leak tight? We can leak test to 1 x 10-9 std.cc/sec Helium or perform a variety of tests such as pressure and life cycle to provide a custom bellows solution.
Supplier Directory Categories
Technical Articles