About

Berner International Corp. has established itself as the leading manufacturer of air curtains/air doors and related products for over 50 years. Berner's mission is to help customers save energy and create healthy, comfortable environments. Their products include air curtains and fresh air ventilators.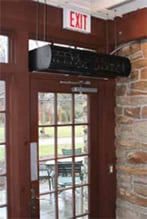 Air Curtains:
Berner air doors employ a controlled stream of air, aimed across an opening, to create an air seal. This seal separates dierent environments, while allowing a smooth, unhindered ow of trac and an unobstructed view through the opening. Because they eectively contain heated or air conditioned air, Berner's air doors provide sizeable energy savings and personal comfort, along with insect control, when applied in commercial and industrial settings.
Berner catalogs over 406 dierent congurations of air doors and has models designed for customer and service entryways that are perfect for grocery stores, oces, retail, convenience stores, and warehouses, just to name a few. Berner International's other products include strip doors, air entrance systems, and fabric ducts.
Berner International Corp. has been certied as a woman owned business by the Women?s Business Enterprise National Council. They are members of the U.S. Green Building Council, the Green Building Alliance, the Air Movement & Control Association (AMCA), and the American Society of Heating, Refrigeration & Air Conditioning Engineers. For more information on Berner?s products, please visit www.berner.com.
Supplier Directory Categories
Berner International Corporation is also listed in these categories: