About
Global Supplier and Manufacturer of Spectrophotometers, Amino Acid Analyzers and Microplate Instrumentation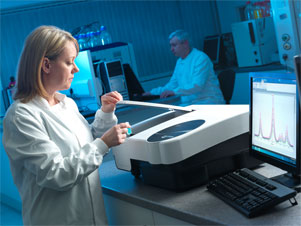 Based on the world famous Cambridge (UK) Science Park, Biochrom is a leading global designer and manufacturer of laboratory analytical equipment with more than 40 years experience of producing high quality scientific instrumentation. Trusted by customers in industry, hospitals and laboratories worldwide, the company is a valued OEM partner to many of the world's finest scientific instrumentation companies.
Biochrom's business activities spans three different laboratory analysis products with a product portfolio incorporating five world famous brands of laboratory instruments.
Spectrometry
From simple hand held colorimeters to high precision double beam instruments with variable bandwidth, Biochrom's spectroscopy product range has a solution for most laboratory applications.
Biochrom Libra range of Spectrometers (Spectrophotometers) for industrial, pharmaceutical, quality control and method development applications
Biochrom WPA range of compact spectrometers and colorimeters for education and Life Sciences
Microplate Instrumentation
A broad portfolio of microtiter plate readers and washers to suit any absorbance microplate application from low cost filter based absorbance readers to scanning monochromator based microplate readers with multichannel reading. These product ranges offer robust instruments that are ideal for multi-user labs.
Biochrom Anthos
Biochrom Asys
Amino Acid Analysis
Biochrom 30+ Series - the world leading dedicated range of amino acid analyzers for accurate quantifiable amino acid analysis for clinical, pharmaceutical, beverage, food and feedstuff applications
Biochrom is committed to remaining a world class company by the regular introduction of new, innovative and customer focused products as well as by being open to external partnerships which present new commercial or technical opportunities. The company has a total commitment to quality. This is a key corporate value and implemented through continual improvement, modern manufacturing processes and a goal throughout the company of continuously exceeding customers' expectations. Biochrom currently employs approximately 100 people worldwide dedicated to the design, manufacture and marketing of their product range. All Biochrom products are available worldwide, through a growing network of committed independent distributors.

Biochrom is part of the Harvard Bioscience Inc. group of companies.

For more information, please visit: www.biochrom.co.uk or www.biochrom-us.com
Supplier Directory Categories