About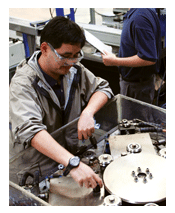 Since 1970 Bishop-Wisecarver has been a world leader in guide wheel technology, inventing the DualVee guide wheel as a problem solver for automotive, machine tool, paper processing, textile, and general industrial automation applications where traditional guidance technologies were ineffective.
This linear slide technology integrates three main components: the DualVee guide wheel, its DualVee mating track with patented mounting shoulder, and the DualVee support bushing. DualVee Motion Technology (DMT) continues to evolve into the ideal technology for today's cutting edge industries: Medical, Packaging, Aerospace, Electronics, and Semiconductor.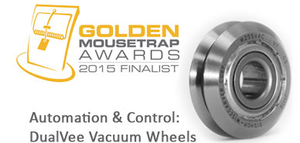 Our product line includes quality made components and accessories, manual linear guide systems, actuated linear guide systems, and rotary guides and systems. Our more popular product offerings include the following trade names - DualVee, LoPro, UtiliTrak, and GV3. Stainless steel, high temperature, and clean room compatible products are among Bishop-Wisecarver's more recent product introductions, but new product development continues to be an ongoing process at the Bishop-Wisecarver Corporation, with innovative designs being introduced at regular intervals.
Components

Easy to install, assemble and adjust
Self-cleaning design for all environments
Smooth and quiet for low friction motion
High accuracy, high cycle, and high speed capable
Heavy duty load capacities for durability and long life
Stainless steel, carbon steel, polymer and aluminum

Manual Linear Guide Systems

Easy to install, assemble and adjust
Self-cleaning design for all environments
Smooth and quiet for low friction motion
High accuracy, high cycle and high speed capable
Heavy duty load capacities up to 4,274lbs for durability and long life
Stainless steel, carbon steel, polymer and aluminum

Actuated Linear Guide Systems

Guide wheel based linear actuators and motion stages
Power transmission via reinforced belt, roller chain, ball screw, or lead screw
Motor mounts for motors and gearboxes from any manufacturer
High rigidity and high capacity for excellent durability
Designs for every environment from clean room to extra dirty, oven to freezer
Stainless steel, carbon steel, polymer and aluminum

Rotary Systems

Guide wheel based rotary actuators and angular motion components
Power transmission via manual methods, reinforced belt, gear tooth and pinion
Standard ring diameters up to 1.8 meters and unlimited custom diameters
Combine ring segments with straight track segments to follow virtually any path
Precision ground mounting surfaces and running surfaces for high accuracy
Stainless steel, carbon steel, polymer and aluminum
Supplier Directory Categories
Bishop-Wisecarver Corporation is listed in these categories:
Technical Articles