About
Bobcat Company is a homegrown North Dakota company born of a pioneering spirit.
Bobcat Company unleashed a way to work better, smarter, faster. During 2008, the company celebrated the 50th anniversary of Bobcat® compact equipment, which began with the Melroe Self-Propelled Loader — a three-wheeled front-end loader — in 1958. That machine evolved into the Bobcat skid-steer loader and spawned the worldwide compact equipment industry.

Today, Bobcat continues to lead the world in the design, manufacture and distribution of compact equipment. The Bobcat family includes skid-steer loaders, compact excavators, and dozens of attachments. Bobcat serves many industries including agriculture, building and construction, excavating, landscaping, equipment rental, and industry.
Many features on Bobcat equipment are designed to make chores easier, from a variety of time-saving attachments, to maintenance-saving functionality built into the machines. With Bobcat equipment and attachments, you can do more and work less. Bobcat equipment never quits because the work never stops.
An innovative, pioneering spirit continues to permeate the entire organization. The innovative spirit and tenacity is reflected today in Bobcat's offices and manufacturing facilities and Bobcat's distribution network.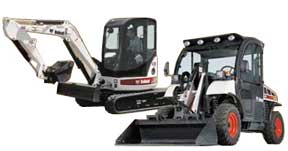 Bobcat prides itself on having the best employees and the best dealers in the industry.
Bobcat Company has indeed gone through many changes. But one thing hasn't changed since 1947: its commitment to outstanding quality and workmanship. The world sees it in every machine that rolls off the line.
Bobcat Company, headquartered in West Fargo, N.D., is part of Doosan Infracore International (DII), a U.S.-based subsidiary of Doosan Infracore, a global manufacturer of construction equipment.
Supplier Directory Categories
Bobcat Company is also listed in these categories: