About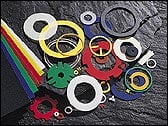 Boker's, Inc. can manufacture your flat washers, spacers and shims with an outside diameter from 0.080" to 12" and material thickness from 0.005" to 0.134". Boker's also inventories thousands of stock tools in order to manufacture specific non-standard washer sizes without tool charges. Outside diameters from 0.080" to 5.140", a wide range of inside diameters and thickness, and 2,000 material variations offer millions of possibilities. Boker's washers, spacers and shims are available in commonly specified and hard-to-find materials such as low carbon sheet steel, five types of spring steel, stainless steel, aluminum, brass, copper and nickel silver, and non-metallic materials such as ABS, acetal, polyester, nylon, nylon MD, Polycabonate, fiber, polyethylene, and various phenolics.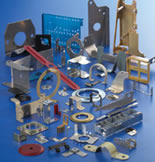 In addition to producing washers and spacers, Boker's has specialized in producing high quality metal stampings for over nine decades. This precision manufacturing covers a complete range of sizes up to 12" x 12" (flat) with thicknesses from .005 to .134 and draws of up to 3" deep and 8" in diameter.
At Boker's, "World Class Manufacturing" is an ongoing process. It means they utilize many of the latest technologies and manufacturing concepts to focus on providing you with quality washers and stampings. This focus on meeting their customers' quality needs goes back to 1919.
Supplier Directory Categories
Boker's, Inc. is also listed in these categories:
Technical Articles