About
Mission

To provide the most advanced accurate and reliable humidity instrumentation available for industrial, laboratory, calibration standard and airborne use, emphasizing high performance chilled mirror technology.

Company Profile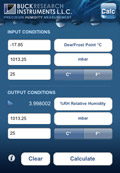 Buck Research Instruments, LLC was founded in 1989 by Arden Buck. An internationally recognized authority on water vapor measurement, he is credited with major advances in the state of the art of humidity measurement and has authored over 30 scientific papers.
For more than 20 years, Buck Research has provided cryogenic hygrometers to clients like NASA for use in a variety of high-altitude atmospheric research flights. Buck Research products have been used in the stratosphere, as well as in demanding laboratory and industrial applications around the world.
Buck Research Instruments, LLC manufactures five different chilled mirror hygrometry products suitable for humidity and moisture concentration measurements. Buck Research Instruments also manufactures the VAPORTRON® and VAPORPAK® humidity calibration systems. Look for the new Buck Humidity Calculator app for the iPhone®.
Supplier Directory Categories
Buck Research Instruments, LLC is also listed in these categories:
Technical Articles