About
An ISO9001:2000 certified company; Burloak Engineered Solutions offers onsite laser inspection and scanning, CMM inspection, manufacturing engineering and manufactured products including castings, fabrications, forgings, machined products, gears and assemblies.
At Burloak they utilize their extensive internal engineering, quality control and project management resources, together with their broad North American and Asian manufacturing capabilities to provide their clients with top quality product at extremely attractive

prices.

All products supplied by Burloak Engineered Solutions are manufactured under strict quality plans and are subject to quality inspection in their climate controlled laboratory in Canada.
CERTIFICATIONS: ISO9001:2000, ISO17025 (implementation in process)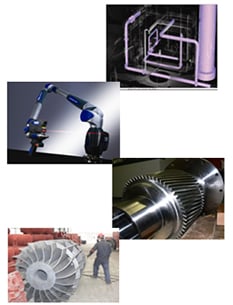 PRODUCTS & SERVICES:
Laser Tracker Inspection
Laser Scanning
On-Site Portable CMM's
In-House CMM Inspection
Large Volume 2D and 3D Scanning
Reverse Engineering
Surface Generation
CAD
Castings
Fabrications
Machining
Forging
Gears
Assembly
CAPABILITIES:
Engineering Solutions:
On-site and remote CAD services, CAM systems, CNC program output, Polyworks - Point Cloud Data, Polygonal Surface Data, Nurb Surfaces, Parasolid *.X_B, *.X_T, IGES, STL, STEP, VDA, Catia, ProE, SolidWorks, AutoCAD, Unigraphics, DXF, CATIA, Mastercam
Metrology Equipment:
FARO Xi Laser Tracker with ADM & Interferometer, Quantum FaroArm 8Ft, FARO Laser Scanner LS - 3D Large volume scanning, FARO ScanArm V3 - 3D Laser Scanner, Zeiss Mauser 241612 CMM with Virtual DMIS, a large selection of manual inspection gauges, Polyworks Version 11 - Inspector, Probing, Modeller, Solidworks 2009 Premium, Mastercam X - Mill, & Turn
Virtual DMIS
Casting Types:
Gray Iron, Ductile Iron, Carbon Steel, Stainless Steel, Aluminum, Centrifugally Cast Bronze, Ni-Hard, Ni-Resist, up to 300 ton
Methods:
Furan (Resin Sand), Lost Wax, Lost Foam, Die Casting, Investment, Green Sand, Floor & Auto Moulding
Lot Sizes:
Low Volume (1 – 100), Medium Volume (101 – 10000), High Volume (10000+)
Forging:
Open and closed die forgings in most popular materials from 2lb to 20,000 Lb. All materials are traceable and can be forged to customer specifications. Components can be serialized if required.
Gears:
Helical, Spur, Double Helical, Internal, External, Hardened, Ground Gears from 0.5" to over 120" diameter. Complete high quality gearbox assemblies and sub-assemblies are available.
Machining:
All types of machining from small components up to 30,000 lb.
Fabrication:
All sizes and materials. Burloak's fabrications are used extensively in the energy sector as well as marine and mining applications up to 200 ton.
INDUSTRIES SERVED:
Aerospace
Mining
Nuclear
Petro-Chemical
Power Generation
Steel
Transportation
Other – above is just a short list. Burloak can work in all industries where industrial machinery or their laser tracking, scanning or engineering services are required.
Supplier Directory Categories
Burloak Engineered Solutions, Inc. is listed in these categories: