About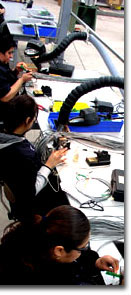 CCM is a leader in providing innovative cable assembly manufacturing and design services. CCM focuses on establishing long term customer partnerships by delivering the most comprehensive services available in labor intensive assembly and turnkey manufacturing. Although their full range of services brings unparalleled value to their customers, ultimately, their company wide commitment to customers' needs is what differentiates them in their industry. Flexibility, responsiveness, and accountability are paramount to each and every customer relationship.
At CCM, cost competitiveness is mandated through supply chain management. With corporate headquarters located in San Diego, California, and their wholly owned manufacturing and assembly plant located in Ensenada, Mexico, they are uniquely positioned to provide direct sales, engineering, and purchasing support from their USA facility, while maintaining their cost leading advantage by assembling products in their Mexico facility.
Design and sales engineers are conveniently located in their California facility to ensure the fastest possible design-to-production support for their customer base. CCM's manufacturing and assembly plant is fully staffed 6 days a week to provide quick turnaround in production lead times. When lead times are a priority, CCM is well positioned to deliver finished goods in as little as 1 week.
Supplier Directory Categories
CCM Assembly & Manufacturing, Inc. is also listed in these categories: