About
CSA Group is a global provider of testing, inspection and certification services for products from a wide range of market sectors, and a leader in safety and environmental certification for Canada and the US. As one of the largest standards development organizations in North America, we understand the recognized benchmark that a standard sets — a benchmark that products can be tested and certified to — opens international doors for those products. Our CSA certification mark appears on billions of products worldwide.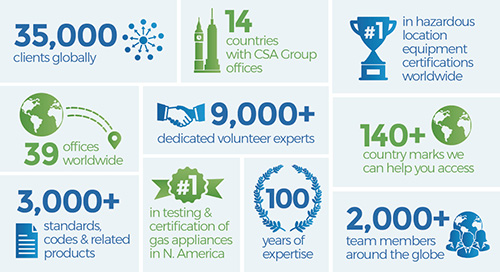 A truly global organization — with offices in 14 countries around the world and a commitment to helping facilitate international business — we are driven by social, economic and environmental factors to help improve the safety and quality of the products and services that touch our lives. Our technical expertise, investment in research and innovation, and engaged staff help us stay one step ahead of the complexities of a changing world and continue to build upon the public trust that we have gained over the last century.
Looking to the next 100 years, we are committed to continuing our role as a strategic partner and trusted advisor, dedicated to advancing consumer and workplace safety and helping manufacturers around the world bring innovative products to market.
Supplier Directory Categories
CSA Group is also listed in these categories:
Technical Articles