About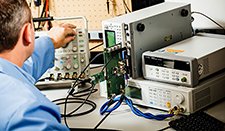 CUI is an electronic components manufacturer with an unwavering commitment to design engineers. The company specializes in a diverse range of product technologies, including power, interconnect, audio, motion control, and thermal management. This broad selection of products coupled with CUI's online resources, Customer Service, Sales and Application Engineering teams ensure even the most challenging design requirements are met head on.

Since its founding in 1989, the company has grown to over 200 employees. CUI has established offices in North America, the United Kingdom and Asia, expanding its reach across the globe. As an ISO 9001:2008 certified company, providing high quality products and services by meeting applicable requirements will continue to be a focal point now and in the future.

In addition to the capability of fulfilling large volume runs, the company welcomes inquiries during the initial design stage and has the systems in place to fulfill sample requests for OEM business.
Supplier Directory Categories
CUI Inc. is also listed in these categories: