About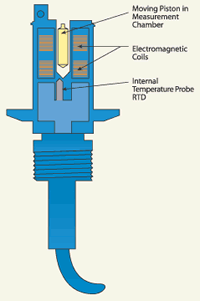 The Leader in Viscosity Measurement Technology
Cambridge Viscosity by PAC is the global leader in fluid viscosity measurement, including oil and gas; petroleum and biofuels; coatings, paints, and inks; pharmaceuticals, and other substances. Where accurate viscosity measurement is mission critical in both process and laboratory environments, Cambridge Viscosity by PAC technologies are chosen time and time again.
The company's leadership is based on a quarter-century of experience, the extraordinary range of their products – including both in-line and in-tank applications – and their innovative proprietary technology. Their customers include leading organizations in oil and gas exploration, refining, automotive, research, industrial materials, and other high-stakes fields.
Cambridge Viscosity by PAC has set the standard for extraordinarily precise, reliable, and virtually maintenance-free viscosity measurement systems. Their sensors and viscometer systems conform to ASTM, DIN, JIS and ISO standards, with a range of models designed to meet specific industry and application needs. At least one of them is right for you.

VISCOlab Viscosity Measurement Products
Accuracy is essential when measuring fluid viscosity. Investigators need tools that are reliable, easy to use, and that integrate easily into a wide range of laboratory settings. In addition, because fluid samples are often expensive and in scarce supply, it is important for viscometers to deliver accurate results using very small amounts of sample. Cambridge Viscosity by PAC's VISCOlab products deliver all the capabilities you need.



VISCOpro Process Viscosity Systems
In process environments, accuracy and reliability must go hand in hand with flexibility and functionality. You need a proven product that will run like you expect it to, regardless of how and where you install it. For viscosity control and measurement, the standard system in use in process environments worldwide is Cambridge Viscosity by PAC's VISCOpro line.
Industries Served
Thousands of Cambridge viscometers are being used in a wide range of laboratory and process environments around the world.
Oil and Gas Exploration: For Pressure Volume Temperature (PVT) analysis, core analysis, and supercritical fluid analysis. Can be applied to oil, gas, and gas condensates and other fluids under high pressure conditions.
Refining: For accurate in-line control.
Coatings/Paints/Inks: To maintain targeted coating solids; to improve film-build consistency; to improve color quality.
Biotech: To provide accurate, highly reliable and repeatable viscosity measurement quickly in an easy to clean instrument.
Oil Analysis and Condition Monitoring: To track engine lubricant health; to measure bearing surface lubricity.
Fuel Combustion: To increase burn efficiency, reduce engine maintenance.
Chemical Processing: To improve mixing and blending.
Supplier Directory Categories
Cambridge Viscosity by PAC is also listed in these categories:
Technical Articles