About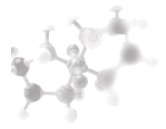 Cascade Optical Corporation is nationally and internationally recognized supplier of high quality optical components and optical coatings. For nearly 30 years they have been providing outstanding optical products for commercial, medical, military, and aerospace applications.

Since they have been involved in the leading optical technologies for many years, it is quite likely that your coating specifications will fit seamlessly into their standard production, so that you will not incur the expenses of coating test runs and tooling. The following list reflects some of their standard coating lines, and gives a description of their continuously improving coating capabilities.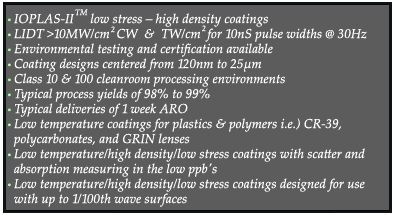 Their IOPLAS-IITM ion-assisted deposition processes give them the flexibility to apply coatings at low temperatures for plastic fibers and other delicate substrates. They can also generate coatings with greater packing densities to handle very high laser damage thresholds. To add to these capabilities, Cascade Optical has also developed manufacturing processes to apply their coatings to; plastics, polymers, semi-conductors, lenses, mirrors, crystals, metals (even diamond-turned surfaces), and ceramics.
They offer quality products with high yields to lower their production costs. Additionally, they offer very short lead times: typically one to two weeks. Their engineering department can provide you with their design-for-manufacture expertise. In most cases they can get you on the right track in just one or two phone calls.
They do a good deal of innovative coating development to support their relationships with the research community of National Labs, Universities, and NASA related organizations. So give them a call and lets talk about how they can assist you with your demanding coating requirements.
Supplier Directory Categories
Cascade Optical Corp. is also listed in these categories:
Technical Articles

A Concise Chronicle of Thin-film Maturation
(Coating Services and Finishing Services)
From coating architectural glass to manipulate light and heat transmission, to the design of absorber layers for solar cells to magnetic thin films for electronic data storage. The technology may be... (
View Full Article
)