About
CAT ELECTRIC POWER
Power Generation Solutions from a Single Source Provider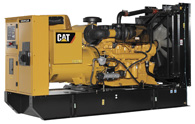 Caterpillar has been building engines and electric power systems for more than 80 years. Supported by the worldwide Cat® dealer network, all Cat electric power systems are consistent performers in many industry applications such as healthcare, manufacturing, pharmaceutical, commercial, construction, mining, residential, and telecommunications.
Caterpillar offers a complete line of generator sets, containerized power modules, heat recovery solutions, and mobile power units to meet continuous or temporary needs. Cat gensets can be customized with a wide range of attachments, components and performance options tailored to fit specific applications.
As a leading global power generation supplier, Caterpillar offers integrated power systems with a broad range of products. Integration ensures equipment is preconfigured to work together for optimum performance. By choosing a single supplier, you also benefit by having one point of contact for all of your support services: financing and insurance options, operator training, routine testing and maintenance, and service contracts and emergency response.
Generator Sets
Cat gensets have a proven reputation in a variety of electric power markets for delivering consistent performance, durability, reliability, and economy in some of the world's most grueling conditions. Cat diesel generator sets (7 to 16,200 ekW) and gas-powered generator sets (9 to 6,000 ekW) are designed for thousands of hours of life before overhaul and deliver low owning and operating costs, outstanding serviceability, and total reliability.
Cat diesel-fueled gensets with ACERT™ Technology meet emission standards without sacrificing performance, while Cat gas gensets offer the flexibility to use natural gas and alternative fuels, including landfill gas, coal mine methane, biogas, digester gas, and syngas.
Automatic Transfer Switches (ATS)
Caterpillar offers a broad range of contactor- and breaker-based automatic transfer switch (ATS) products with digital microprocessor controls. Products include open and closed transition designs in sizes from 40 to 4,000 amps, all available with optional bypass/isolation and delayed features.
Switchgear
From standby/load management to multiple-unit utility paralleling configurations, Cat switchgear supplies a complete system solution by integrating elements of genset function, control, and monitoring in a single-source package. Available from 600-volt class through 15 kV, all Cat switchgear is UL/CSA listed and IEEE 1547 compliant.
Mobile Generator Sets
For temporary power needs, Cat Rental Power solutions range from 20 to 2000 kW power modules. All units are self-contained, mobile power solutions housed in protective enclosures that incorporate sound attenuation and fuel containment. The units come complete and can be mounted on trailers for easy delivery and quick connection.
Microgrids
Cat Microgrids are fully integrated power systems with photovoltaic panels, energy storage, monitoring and control systems, Cat gensets, switchgear, and ATS that provide cost-effective power for on- and off-grid applications.
For additional information, visit our website . To interact with other power generation professionals in Caterpillar's online community, register here
Supplier Directory Categories
Caterpillar Electric Power is also listed in these categories:
Technical Articles


Generator Sound Levels
(Power Generation and Storage)
Noise levels can be an influential factor in purchasing a generator set. The manufacturer records sound pressure levels at fixed distances around the generator set and averages them to calculate the... (
View Full Article
)