About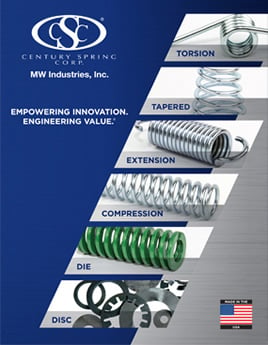 Century Spring Corp. (CSC) was founded in 1927 as a full-service manufacturer of high-quality custom springs. From the beginning, CSC has been committed to providing our customers with the finest quality products and service in the industry. In 1997, Century Spring Corp. joined with MW Components to become one of the top spring and specialty fastener manufacturers in the nation.
CSC is dedicated to maintaining its leadership in the spring industry. By listening to our valuable customers, and providing them with what they need to be successful, we are able to reach our goals and help our customers achieve theirs. Because we make customer satisfaction our NUMBER ONE priority, we have received numerous customer service awards for on time delivery, shipping accuracy, and quality control.
With Century's 90+ year tradition of success, our customers rely on us to meet all of their spring needs as their one and only source for springs. You have our assurance that your business will receive our complete attention and our commitment to the highest level of customer support possible.m - features their full catalog, helpful technical information and downloadable CAD drawings of their products.
Century Spring Corp. is ISO 9001:2015 registered.
Century Spring Corp. is AS9100 Rev. D certified.


Supplier Directory Categories
Technical Articles