About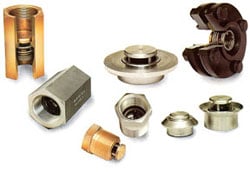 Check-All Valves For Water, Oil and Gas Applications. In the beginning the first Check-All Valve was designed and built for use as a pump foot valve. The year was 1958. Since then Check-All has grown from an idea to a reality; from one valve to many series of valves; from one use to multiple uses; from one material to a variety of materials and from one man to a factory. Check-All has grown in all respects - but one element remains the same - SERVICE TO EACH CUSTOMER. They will never permit this to change.

Design Features - The complete line of Check-All Valves are in-line spring-loaded piston-type check valves. Many series are available which provide check valves for practically every service application. All valves are available with metal-to-metal or soft seats. Sizes range from 1/8 NPT to 20 inch flanged connections. Pressure ratings are available from full vacuum to 10,000 psi. Special alloys available are Titanium, Hastelloy, Monel, Alloy 20, Nickel, lnconel and many others. A wide range of spring settings is available for all valves. FEP encapsulated springs are available for special corrosion applications.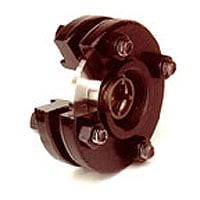 The following are some of the reasons Check-All® is an outstanding check valve:
SILENT - engineered for silent operation! Check-All valves close quickly and smoothly to minimize hammer noise.
ORIFICE SIZE - engineered from experimental data to give a minimum pressure drop over the full flow range of the valve.
BASIC DESIGN - streamlined so that fluid flows through the valve over smooth contoured surfaces with a minimum change in direction.
INDUCED TURBULENCE - on seating surfaces just before the valve closes, insures positive sealing by removing minute foreign particles suspended in the fluid.
SEATING SURFACES - on all metal valves are mated and precision lapped to insure effective sealing. The mated parts remain mated through the assembly process.
DESIGNED - to function equally well in either a vertical or horizontal position, with proper spring selection.
DESIGNED - to reduce installation costs. Insert series Check Valves easily fit into existing line components that reduces both initial cost and installation time.
DESIGNED - to reduce maintenance costs. The Check-All design is simple, rugged and efficient. The seating surfaces are parallel to each other thereby eliminating the excessive wear occurring in plug, cone and ball seats.
Supplier Directory Categories
Technical Articles