Profile Home
About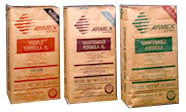 Is Non-Destructive Cleaning Critical?
When cleaning or restoring parts, surfaces or substrates that cannot have base materials removed or specifications and surface tolerances change the only blasting abrasive to use is ARMEX. Other hard blasting abrasives can remove base materials from parts, surface or substrates damaging and changing the specifications along with surface tolerances permanently damaging what you are trying to clean or restore.
The gentle physical propriety of baking soda but yet aggressive cleaning ability is what makes ARMEX the only choice. ARMEX is also environmentally-friendly and soluble. Use ARMEX to clean, degrease, remove contaminants, burnt on carbon, paint, fire damage and mold remediation from a wide variety of substrates including steel, lead, aluminum, alloys, plastics, rubbers, composites and masonry materials.
Technical Articles