Profile Home
About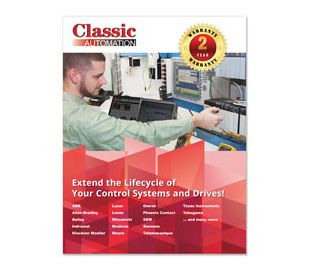 Spare Parts and Repair Services for Installed Control Systems, Drives, & Servo Motors

Classic Automation LLC is focused on supporting your installed control systems and drives through spare parts and repair services. We have a large inventory of high-quality, surplus control system parts, drives, and servo motors. We also distribute many new hardware and software products to help support your existing installation or utilize the latest technology. We have a knowledgeable staff, extensive test and repair facilities, and all of our surplus parts and repairs come with a 2-Year warranty.
Repair Your Parts

You can order online, generate your own quote, or submit a return authorization for repairs, 24 hours a day, 7 days a week. Contact us by phone, fax, or e-mail.
Classic Automation LLC is also listed in these service categories: