About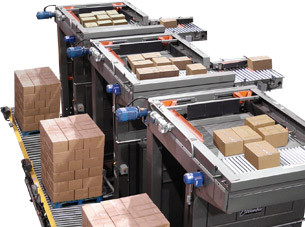 Powerful Products
Complete palletizing solutions for your business.
Columbia makes the best floor-level, high-level and robotic palletizers in the world. Our highly flexible machines efficiently palletize cases, bags, trays, bundles, display packs and more, at speeds of up to 150 cases per minute. Columbia also manufactures heavy duty Load Transfer Stations for transferring loads from one type of load base to another. Superior construction, maximum flexibility and upgradeable performance are just part of the package with Columbia Machine.
History
For over 50 years, Columbia has concentrated on serving these major industries with palletizing solutions: food, beverage, dairy, pharmaceutical, personal hygiene, building products, paper, and chemical. Today, our client list includes many prestigious Fortune 200 companies who palletize everything from paper towels and laundry detergent to fruit juice, dog food and chicken.
In 1937, an ambitious 23-year-old named Fred Neth, Sr. borrowed $800 to open a small shop, Columbia Forge and Machine Works, on Main Street in Vancouver, Washington. In the early days, Columbia tackled a variety of jobs, including repairing the primitive concrete block-making machines of the time. As we learned the intricacies of those manually-operated machines, we realized quickly that we could design and build a better one.
In 1945, Columbia pioneered and built a hydraulically-operated machine which significantly improved the precision and quality of concrete block production. These block machines were a widespread overnight success.
In 1955, we moved to our present location on Grand Boulevard in Vancouver, becoming incorporated as Columbia Machine, Inc. By 1957, we had established a firm position as a leading manufacturer in the United States and began selling machines on the global marketplace.
In the early 1960s, Columbia Machine hosted an open house for local dignitaries and community business leaders. During a tour of the plant, the owner of Lucky Brewery in Vancouver saw a machine stacking concrete blocks on a pallet. Intrigued, he asked us if we could apply the same principle to stacking cases of beer onto a pallet. We accepted the challenge, engineering and building the industry's first floor-level case palletizer. This innovative new machine was the start of a new manufacturing division at Columbia, the Palletizer Division.
In nearly 75 years, Columbia Machine has matured from a small machine shop to the world's leading manufacturer of palletizer and concrete products equipment.
Supplier Directory Categories
Technical Articles