About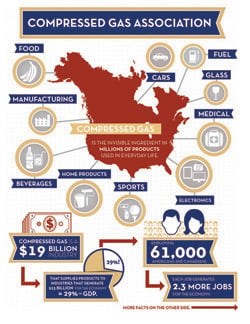 Since 1913, the Compressed Gas Association (CGA) has been dedicated to ever-improving safe, secure, and environmentally responsible manufacture, transportation, storage, transfilling, and disposal of industrial and medical gases and their containers. More than 120 member companies provide technical and advocacy leadership to establish safety standards; provide safety information and warnings about the chemical or physical properties of gases and their containers; and provide technical training and education. CGA is an American National Standards Institute (ANSI) accredited Standards Developing Organization and works directly with Federal, State, and Provincial agencies and fire code officials to promote safe and responsible practices and regulations.
CGA represents all facets of the industry: manufacturers, distributors, suppliers, and transporters of gases, cryogenic liquids, and related products. Our sphere of influence encompasses industrial, medical, and specialty gases in compressed or liquefied form, and a range of gas handling equipment.
The work of CGA is carried out by committees of volunteers from member companies having expertise in the specfic topics. Each of these committees focuses on work item projects through its subcommittees and task forces. Committees meet regularly at CGA headquarters in Northern Virginia or at other sites around the United States and Canada. CGA's staff provides coordination and technical support.
Supplier Directory Categories
Compressed Gas Association (CGA) is listed in these categories: