About
Consolidated Electronic Wire & Cable is a full-line source for standard and custom electronic wire, cable, power supply cords, molded cable assemblies and wiring harnesses. They have been serving the needs of their industry for over 90 years.
Reduced Costs of Procurement
Wide Range of Products
Total Quality Management (TQM) Manufacturing Systems
Custom Manufacturing
While Consolidated Electronic Wire & Cable has always been known as a "quality" cable manufacturer, the drive for perfection has accelerated in recent years. An ISO 9000 certification program is currently underway. This is in addition to the aggressive quality control programs already in place. Continuous in-process inspections, full laboratory verifications of product specifications and rigid life testing of finished products are all routine. Consolidated's products also meet all applicable UL, NEC, OSHA and CSA requirements.
Consolidated offers an extensive line of stock products, in-depth inventory and a broad distribution network. Custom cable configurations are also manufactured to meet special needs and to respond to the growing demands of industry for outsourcing and value-added services.
Over the years, Consolidated Electronic Wire & Cable has developed broad expertise in application engineering support for specifiers of wire and cable products. That resource has become particularly important as customers become performance driven. The right application assistance can have a major impact on cost reduction without performance trade-offs.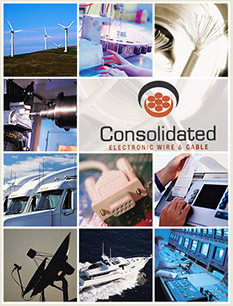 The Consolidated Difference
Consolidated Electronic Wire & Cable has been a "customer-driven company" long before the phrase became fashionable, whether it means meeting delivery or special packaging demands, providing specialized support or just responding quickly to calls. Staying abreast with the latest technologies helps to provide input to fine-tune company operations and current market trends. Because Consolidated is much smaller than some of its big corporation competitors, it can be more flexible to the concerns of customers. That has proven to be a vital difference!
Applications/Markets
Consolidated Electronic Wire & Cable offers a broad line of products which can be found in computers, business machines, data transmission, medical diagnostic equipment, factory automation systems, appliances and countless other applications. As more and more buildings add sound, video data and alarm systems, Consolidated has become the choice of contractors at thousands of job sites. Contractors are especially selective in the products they specify. Consolidated products meet the demanding quality and performance requirements.
Consolidated Sales Force
Consolidated Electronic Wire & Cable has over 50 industry specialized manufacturer's representative office locations.
Supplier Directory Categories
Consolidated Electronic Wire & Cable is also listed in these categories: