About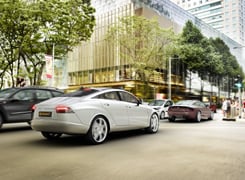 Continental was founded in Hanover in 1871 as the stock corporation "Continental-Caoutchouc- und Gutta-Percha Compagnie". Manufacturing at the main factory in Hanover included soft rubber products, rubberized fabrics, and solid tires for carriages and bicycles.
Today, Continental ranks among the top 5 automotive suppliers worldwide.
As a supplier of brake systems, systems and components for powertrains and chassis, instrumentation, infotainment solutions, vehicle electronics, tires and technical elastomers, Continental contributes to enhanced driving safety and global climate protection. Continental is also a competent partner in networked automobile communication.
With around 178,000 employees (Status: December 31, 2013) in 49 countries, the Continental Corporation is divided into the Automotive Group and the Rubber Group, and consists of five divisions:
Chassis & Safety embraces the company's core competence in networked driving safety, brakes, driver assistance, passive safety and chassis components.

Powertrain represents innovative and efficient system solutions for vehicle powertrains.

Interior combines all activities relating to the presentation and management of information in the vehicle.

Tires offers the right tires for every application – from passenger cars through trucks, buses and construction site vehicles to special vehicles, bicycles and motorcycles. Continental tires stand for excellent transmission of forces, exceptionally reliable tracking in all weather conditions and high cost effectiveness.

ContiTech develops and produces functional parts, components, and systems for the automotive industry and for other key industries.
Supplier Directory Categories