About

Control Resources is in a unique position to offer Design & Manufacturing Services due to their decades of experience as a leading OEM supplier of custom and off-the-shelf fan and motor speed controllers utilizing their trademark SmartFan technology.
You supply the idea, CRI supplies the product.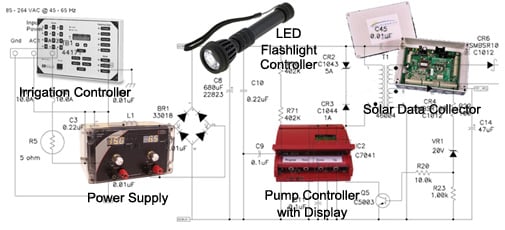 CRI Design Expertise
Since 1984, the CRI design team has specialized in custom analog design, AC and DC motor drives, digital and power electronics design, embedded microcontrollers, system monitoring and reporting, user programmable features, and digital interfaces.
With this broad expertise, CRI's clients can count on a team with extensive experience that has designed and manufactured over 300 custom products.

CRI Custom Design Portfolio

CRI Client List
CRI is proud to have supplied leading OEMs with custom SmartFan controllers and alarms for more than 25 years. Here are some of their customers.

CRI offers Flexibility and Low Cost for Design
By only building product that is designed by the CRI team, they can capitalize on their established global supply chain so you avoid costly minimums. CRI does this by utilizing their extensive inventory of over 1,400 standard components, reducing set up fees.

CRI Design and Production Expertise
CRI's "design for manufacturing" approach makes the transition from prototype to production seamless for the customer. Manufacturing personnel attend design reviews and provide input throughout the design cycle to identify and remedy potential problems before the product is released to production.

CRI Pricing and Quality Assurance Guaranteed
CRI's initial design fees are always below cost. CRI assumes a risk if the product fails to meet sales expectations. If sales are successful, a pre-determined buy out fee gives the customer flexibility. This keeps CRI motivated to keep pricing competitive and quality high at their ISO 9001 facility.

CRI Manufacturing Capabilities and Facilities
Schematic, hardware, software, layout, prototype and production services all provided in CRI's Littleton, MA facility
ISO 9001:2008 registered
UL certified facility
SMT and mixed production capabilities
Electronic, mechanical, and value added services all done on-site
RoHS (6/6, 5/6), no clean and water soluble production options

Supplier Directory Categories
Control Resources, Inc. is also listed in these categories:
Technical Articles

Applications of SmartFan Technology
(Motor Controls and Drives)
Benefits of using SmartFan include acoustical noise reduction, environmental (humidity, temperature or pressure) regulation, greater product reliability, increased fan life, improved safety and energy... (
View Full Article
)