About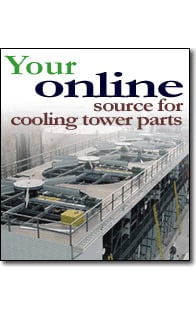 Cooling Tower DepotTM is a full service cooling tower company. They offer the only internet cooling tower parts store in the industry. There you can purchase cooling tower parts from their catalog with a company purchase order (subject to credit approval), or with most major credit cards.
If you're not comfortable purchasing online, Cooling Tower DepotTM will be glad to submit a bid to earn your business. Their customer service team stands ready to help you with any aspect of your order. They know gearboxes, fill, drive shafts, fans, nozzles and all other cooling tower components. Cooling Tower DepotTM will ensure that you get the right parts for your cooling tower.
Create your account today, and enjoy the savings and convenience of quick, easy, internet transactions.

To view typical replacement of parts, click here.
Supplier Directory Categories
Cooling Tower Depot is listed in these categories: