About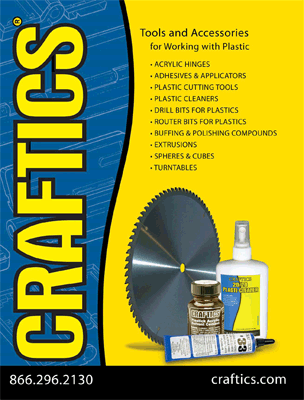 CRAFTICS manufactures and distributes tools and accessories for plastic fabrication. The company specializes in products used for working with acrylic plastic. We are a strong and reliable company that is dedicated to the quality of our products and our customer service. We pride ourselves in our knowledge and experience in the plastics industry.
CRAFTICS provides both products packaged for retail sales and bulk items for use by acrylic fabricators and companies that work with plastic. Many plastic sheet distributors sell CRAFTICS products to compliment their sales of raw materials to end-users. Other typical CRAFTICS customers include hardware stores, sign companies, glass suppliers, hobby stores, recognition award retailers and other outlets that supply tools to the do-it-yourself public.
CRAFTICS has been in business for almost 40 years and has pioneered many of the products it sells. CRAFTICS is well known for its experience and expertise in acrylic fabrication and tools for plastic. The CRAFTICS product line is the result of years of refining and improving the tools and accessories it sells. Hundreds of acrylic fabricators and plastic sheet distributors rely on CRAFTICS for the tools and accessories they need for their own use and for resale to their customers.
Our product line includes plastic cutting tools, plastic cleaners and plastic polishes, solvent cements (acrylic glue) and other acrylic adhesives, as well as the applicators and syringes used for solvent cement application. Other fabrication tools include heaters for bending acrylic, buffing wheels and compounds for polishing, acrylic drill bits (drill bits for plastic), plexipoint drill bits, specialized saw blades and router bits for acrylic. Glue-on accessories range from acrylic hinges and other plastic hinges to a large variety of knobs, hasps, door catches, hooks, revolving turntables (plastic lazy susans), and cam locks. CRAFTICS also carries a large inventory and selection of acrylic tubes, rods, and other extrusions such as Z-bar and U-channel, along with acrylic cubes, acrylic balls, acrylic half balls, and other acrylic shapes.
CRAFTICS also supplies various finished acrylic products and point-of-purchase displays.
Supplier Directory Categories
Craftics, Inc. is listed in these categories: