About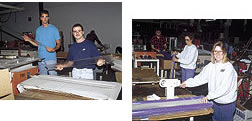 Crescent Plastics is a custom profile extruder located in Evansville, Indiana, USA. With 50 years of experience, they are recognized as one of the top profile extruders in the country.

Crescent Plastics realizes today's demanding business environment requires a superior product, close attention to detail, and a high level of service and performance.
What Crescent Plastics Does
Extrusion

Crescent Plastics' extrusion process begins with part design. Designs can be faxed or sent via e-mail using the .DXF AutoCAD file format. Crescent engineers will work with you to create the optimum part design, minimize costs and maximize dimensional control. These same engineers design and build the extrusion dies and fabrication equipment using the latest in computer aided manufacturing (CAD-CAM). Crescent Plastics' engineers pride themselves on working with you from the start. It is their close attention to detail that sets them apart from their competition.
Fabrication

Fabrication is an area where Crescent Plastics excels. They can build sophisticated equipment for on-line or off-line fabrication. Part volume and design are factors that determine if the fabrication can be performed on-line. Their fabrication process includes: cutting, notching, drilling, punching, routing, gluing, embossing, pad printing, silk screening, solvent bonding, sonic welding and more. Crescent Plastics' process engineers will analyze your part to develop the process to best suit your needs.
Crescent Plastics, Inc., is a privately held institution, with two sister companies: Cresline Plastic Pipe Company and Wabash Plastics, Inc. Cresline is one of the largest pipe manufacturers in the United States. Wabash Plastics, Inc. is a large custom injection molder. The purchasing power of all three companies is combined to gain the most effective pricing on raw materials for their customers.

Crescent Plastics' customer base includes electrical, display, appliance, construction and agricultural industries. They specialize in close tolerance extrusions and have engineering design capabilities.
Supplier Directory Categories
Crescent Plastics, Inc. is also listed in these categories: