About
Cummins Power Generation Inc., a subsidiary of Cummins Inc., is dedicated to increasing the availability and reliability of electric power anywhere in the world. Cummins Power Generation today delivers innovative solutions for any power need—commercial, industrial, recreational, emergency and residential. Products include alternators, generator-drive engines and pre-integrated power systems, combining generator sets and power control and transfer technologies. Services range from system design, project management, operations and maintenance contracts to development of turnkey power plants.
GENERAL INFORMATION

COMPANY NAME: Cummins Power Generation Inc.,
a subsidiary of Cummins Inc. (NYSE: CMI)
CORPORATE HEADQUARTERS:
Shoreview, Minnesota, USA
2013 REVENUES: $3.0 billion
EMPLOYEES: 7,000 worldwide
FOR MORE INFORMATION:
http://power.cummins.com
MAJOR MARKETS: Standby, prime and continuous applications in data centers; military; commercial and industrial buildings; utilities; health care facilities; retail; oil and gas; combined heat and power plants; rental; recreational vehicle; marine; fire and rescue; telecom; mobile specialty; home standby.

INTERNATIONAL PRESENCE: Located on six continents; more than 500 company-owned and independent distributor locations in 190 countries and territories.
Unique Expertise
Cummins Power Generation has unique expertise in that all aspects of generator set design, manufacture and service have been brought together in one company.
All the major components — the engine, alternator and control systems — are manufactured by divisions of Cummins. This integral approach means each element of a generator set is matched to work in harmony from the start.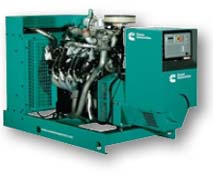 Customer Focus
Providing what the customer wants is at the core of Cummins' manufacturing philosophy. For generator set customers this means a choice of mobile, stationary, open or sound attenuated versions is available for all models.
Best Solution
For the design, test and installation of power supply packages, Cummins Power Generation has the resources and capacity to tailor generator set packages to customers' exact requirements.
The result — the best engineering solution for the ultimate in peace of mind.
Supplier Directory Categories
Cummins Power Generation is listed in these categories:
Technical Articles

An Introduction to SmartGrid (.pdf)
(Power Generation and Storage)
There has recently been a lot of talk in the media and debate by government officials about the "Smart Grid". The 2009 American Recovery and Reinvestment Act (ARRA) allocates billions of dollars in... (
View Full Article
)