About
Custom Milling & Consulting is your single source for all your wet milling/mixing needs. With our Custom Processing Operation, we can handle Product/Process Development, Toll Milling, and Product Characterizations. Our Equipment Division provides durable and efficient process equipment such as Supermill PLUS media mills, Batch Mills, Three Roll Mills, Planetary Mixers and Turnkey Systems. CMC can offer the right solution whether we produce your materials for you or set you up with the proper equipment and processes to do it yourself in-house. This complete continuum of services is what we call our "Circle of Success".
Move with CMC, where technology, performance, integrity and commitment combine to provide the ultimate resource for our customers.
Custom Milling & Consulting was established in 2002, by Carl Yerger and Joe Zidik offering contract milling services by way of media mill technology in the Paints, Coatings, Inks, and Specialty Chemical businesses. CMC was designed to help those companies bridge the gap between laboratory development and full scale manufacturing.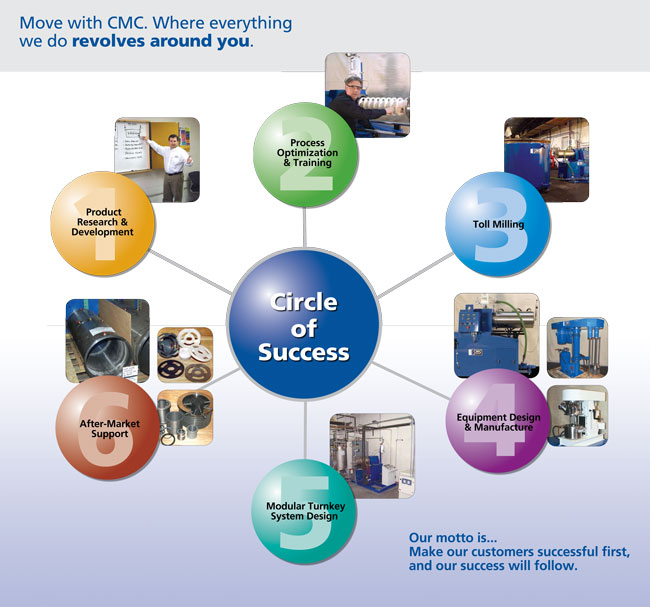 The contract milling business helped us to understand more about the various process limitations and difficulties our customers typically face in their own manufacturing facilities. This inturn created a new business opportunity for us; to provide the milling equipment for those companies looking to move from development to in-house manufacturing. CMC has designed new and innovative ideas such as our Fluidizer Milling Disc, and the ability to process using very fine grinding media. All of these new innovative ideas were developed for use in our contract milling division, and in 2004 the CMC Equipment Division was formed. It was a natural transition to help customers go from milling small batches to volumes large enough to facilitate the need for equipment in-house. CMC could now supply the machines to our customers that the small batches had been made on to use in their own facility. It provided a seamless transition for our customers.
The business continued to grow for both Contract Milling & Equipment Divisions. We entered into new markets such as cosmetic, mulch colorants, ceramics, electronic paste, chocolate, battery, solar, composites and carbon nanotube fiber. We added the CMC Batch Mill which offers mixing and milling in a single vessel. In 2008, CMC was granted trademark rights for our Media Mill called Supermill PLUS. The Contract Milling division now produces millions of pounds in contract manufacturing on an annual basis for customers all over the world.
Move with Custom Milling & Consulting, where everything we do revolves around our customers. Our success solely depends on making our customers successful first and our success will follow.
Supplier Directory Categories
Custom Milling & Consulting, Inc. is also listed in these categories:
Technical Articles

Wet Milling & Material Processing
(Solids and Powder Processing Equipment)
The world of material processing and size reduction demands faster and more efficient methods to yield increasingly smaller sizes and narrower particle size distributions. Processes in a variety of... (
View Full Article
)