About
Waste Gas and Wastewater Treatment by DAS Environmental Expert
DAS Environmental Expert is a leading environmental technology company that provides sustainable solutions for waste gas treatment and wastewater treatment while minimizing resource usage.
The family-owned, mid-sized business with headquarters in Dresden, Germany stands out with two decades of technology and market experience. Our employees worldwide further develop this extensive knowledge base every day. Each one is an expert in his or her own field. This enables us to offer products and services that set the highest international standards. That is what we want to express with our claim "Environmental Expert."
Clean Air
Solutions for Waste Gas
Treatment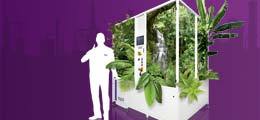 Our point-of-use abatement systems for treating waste gases from semiconductor process equipment protect the environment, employees and offer the lowest Cost of Ownership.
Learn more about our point-of-use products for waste gas treatment, VOC removal and fine dust reduction.
Clean Water
Solutions for Wastewater
Treatment
Our portfolio of services for wastewater treatment extends from the planning and construction of systems for biological and physical-chemical processes to the analysis and optimisation of existing wastewater treatment plants.
Learn more about our products for wastewater treatment.
Supplier Directory Categories
DAS Environmental Expert GmbH is also listed in these categories: