About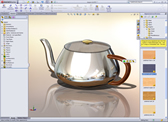 Dassault Systèmes SolidWorks Corp. (DS SolidWorks) is a world leader in 3D solutions. The company develops and markets software for design, analysis, product data management, and documentation. It is the leading supplier of 3D CAD technology, giving teams intuitive, high-performing software that helps them design better products.


SolidWorks® 3D Computer-Aided Design (CAD) Software - Streamline product development and design better, more attractive, more durable products faster than with other CAD software. The SolidWorks Intelligent Feature Technology (SWIFT) is the first CAD tool to automatically find and fix 3D CAD's toughest challenges, enabling users to focus on design innovation, not on how to maximize the software.
SolidWorks Premium is the complete 3D product design solution, providing your product design team with all the design engineering, data management, and communications tools that they need in one package.
SolidWorks Simulation Software - Specifically tailored for designers and engineers who are not specialists in design validation, SolidWorks Simulation allows engineers and designers to simulate how products will behave in their operating environment. Performing simulation during the design process will help decrease product development cycles and lower costs through protype reduction and identification of optimal designs
SolidWorks Enterprise PDM – Geographically dispersed teams can manage product data, share design information, automate workflows, and improve collaboration between engineering and manufacturing. SolidWorks Enterprise PDM will prevent data loss, streamline your design process, and maximize the productivity of your global design team.
Design Communication Tools - Allow designers to demonstrate how products look and perform with SolidWorks eDrawings® Professional, 3D Instant Website, PhotoWorks™, and SolidWorks' animation capabilities.
Productivity Tools - Users can reduce design time with the SolidWorks Toolbox library of standard parts, SolidWorks Utilities productivity enhancement software, and FeatureWorks® feature recognition software.
SolidWorks software:
…is the leading supplier of 3D computer-aided design software.
…has proven its adaptability to most engineering design needs. Customers have used it to design a broad range of products, including aircrafts that can convert to a road-legal vehicle, exploratory sub-sea, electric vehicles, Formula one race cars, and industrial machinery with tens of thousands of parts.
…has more users worldwide than any other 3D CAD software with more than a million designers and engineers using it at more than 115,000 locations in more than 100 countries.
…has been endorsed and embraced by the world's top-ranked four and five-year engineering degree programs, worldwide. Over 14,500 academic institutions are using SolidWorks software to teach engineering technology and design.
…won Control Engineering magazine's Engineers' Choice Award in the simulation category
…won 2007 NASA Tech Briefs Readers' Choice Product of the Year Award
…has evolved with more product innovations and enhancements than any other 3D CAD product in the industry. This means SolidWorks has kept abreast of evolving customer needs and enhanced the technology to constantly meet those needs.
…is the only 3D CAD software from a company that has been 100 percent focused on 3D product design since its beginning.
Supplier Directory Categories
Dassault Systemes SolidWorks Corp. is also listed in these categories: