About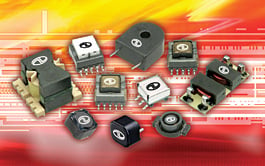 Datatronic Distribution, Inc., and Datatronics Romoland, Inc., design and manufacture the industry's broadest line of wirewound magnetic devices for customers worldwide. Products include Switch Mode Power Supply transformers and inductors, RF magnetics, common mode chokes, gate drive transformers, current sense transformers, pulse transformers, wideband RF transformers, telecommunications transformers and LAN filters.
Datatronic Ltd. is certified to ISO9001 & ISO/TS 16949-2002.
Datatronic Distribution Inc. is the USA operation for Datatronic, Ltd. of Hong Kong, which manufactures wirewound magnetics for industrial and commercial markets. Datatronics Romoland, Inc., is a USA company that manufactures wirewound magnetics for the military, aerospace and hi-rel medical markets. Both companies are global award winning suppliers to major companies worldwide. They have been recognized with Supplier Awards from many customers, including: Ericsson, Xerox, IBM, Delco, Honeywell, Medtronics/Physio Control, General Electric and many more.
Supplier Directory Categories
Datatronics™ is also listed in these categories:
Technical Articles