Profile Home
About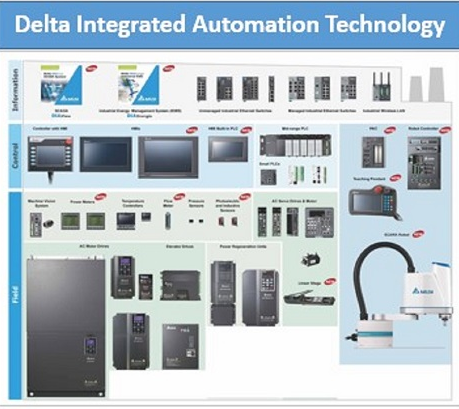 Delta is a major provider of Industrial Automation product technology, and a key contributor to the global advancement of smart manufacturing. The Industrial Automation Business Group mission is "to elevate our living environment through advanced automation technology and value added innovation." With key competencies in design, manufacturing, and service/solutions - new technology is developed with higher levels of integration within a wide portfolio of automation products. These include: Variable Frequency Drives (VFD), Servo Motion Systems, Human Machine Interfaces (HMI), Programmable Logic Controllers (PLC), Motion Controllers, Temperature Controllers, Ethernet Switches & Cloud Routers, Industrial Network Conversion, Power Quality, Power Supply, Energy Management, Sensors, Linear Actuators, and Robotic products.
Well rooted in the USA since 1982, the Delta Industrial Automation Business Group is dedicated to customer satisfaction in the America's region, and long-term sustainability of the Delta brand.
Delta Products Corporation offers scalability of controls from distributed stand-alone components to centralized architecture systems. Machine builders select Delta Industrial Automation Technology to reduce their overall control system footprint to create lean architectures for superior engineering designs.
Built-in Control for Stand-Alone Machinery
High-functionality product technology such as the A2-series Servo Drive with built-in motion macros, eCAM with dynamic shifting, and sequencing engines can be used to create cost efficient stand-alone automation modules and solve performance- based rotary knife, flying shear, and point-to-point indexing applications. The C2000 and MS300 AC Motor Drive product lines ranging from 1/2 to 800HP includes a built-in PLC capable of 10k steps with on-board I/O and EtherNet/IP connectivity, can both be programmed with the same IEC 61131-3 ISPSoft software that is used to program Delta's entire line of DVP series PLCs.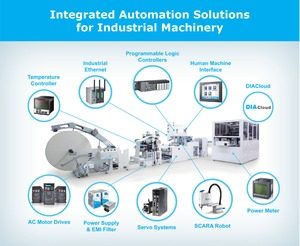 Networks for Centralized and Distributed Control
Delta provides scaled up architecture solutions for complete machine control with network platforms. The AH500 series PLC comes with integrated motion to deterministically synchronize up to 32 axis of Servo, VFD AC Motor Drives, and remote I/O modules – all from Delta, all over EtherCAT – the fastest, most efficient, open control network on the market. Delta has expanded its connectivity options to include information connectivity through EtherNet/IP at the platform level. This supports an even stronger system configuration when combining multiple Delta IA technologies and 3rd party product integration for complete manufacturing lines.
Delta also offers smart connectivity and IIoT solutions for various Industry applications with its reliable 3G cloud router which offers seamless cloud and gateway integration to new installations or traditional legacy device support for factory modernization initiatives.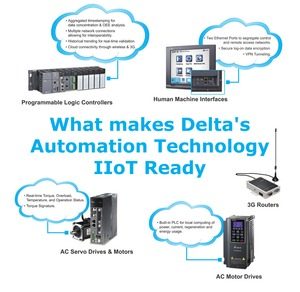 Focused Industries & Markets
Delta recognizes the challenges faced when adopting new automation technology, and have developed application based solutions for specific industries and markets to support easier migration, installation, configuration and programming. Delta's innovation creates efficient productivity in the context of Oil & Gas, Food & Beverage, Material Handling, Packaging, Machine Tool, Woodworking, Elevator, Cranes & Hoists, HVAC, Water/Wastewater, and Industrial Robots.
Innovative, Clean and Energy efficient Smart Solutions for a better tomorrow.
Videos