About
Your Total Solution From A Single Source
Superior components, and the expertise to turn those components into superior products ? all in one place, that?s Deringer-Ney. Your single source for total component and assembly solutions.

For more than 50 years, Deringer-Ney has been the premier solutions provider to the automotive, electronics and medical industries ? and it?s easy to see why.

As a manufacturer, they provide the High Performance Alloys, Precision Metal Components, and Precision Insert Molded Components that make great devices. As an engineering and development partner, they provide the expertise to make those devices the most efficient and economical they can be.

It?s why, from design through assembly, top manufacturers look to Deringer-Ney.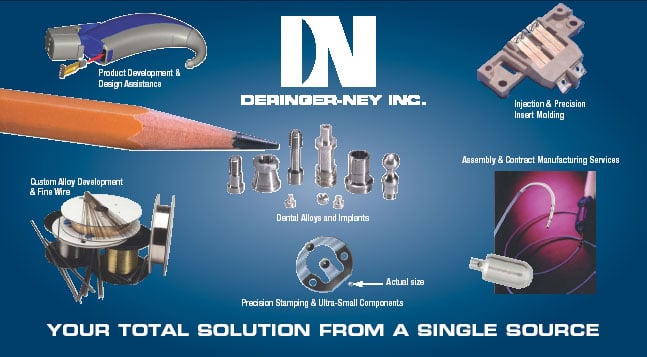 Product Development & Design Assistance
On-Site staff of Metallurgists and Engineers provide technical support, rapid prototypes & cost effective designs


Custom Alloy Development
They offer a wide range of Alloys and their Metallurgist can work with you to develop custom alloys in precious & composite materials to meet your exact requirements


Fine Wire, Foils, Strip
-Diameters of less than .003?/.076mm
-Existing & Custom Alloys


Precision Metal Components
-Forming, Stamping and Machining
- Joining Dissimilar Metals
-Electrical Contacts
-Ultra-Small Components


Precision Insert Molding
-Connectors
-Sensor Assemblies
-Medical Devices


Contract Manufacturing
-Low Cost Hand Assembly in their Mexico Facility
-High Volume Automated Assembly
-From Sub-assemblies to Full Devices
Supplier Directory Categories
Deringer-Ney Inc. is listed in these categories: