About
Dickson: Your one-stop source for premium data loggers and chart recorders.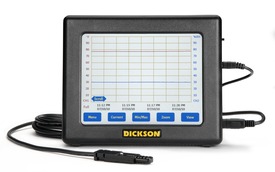 If you've recently eaten at a restaurant, taken prescription medicine, walked through an airport, or even turned up the heat in your home, it's highly probable that you've encountered Dickson products without even knowing it.
Our monitors ensure that foods are stored at government mandated temperatures, and prescription drugs and vaccines are formulated in correct environmental conditions. Our data loggers and chart recorders keep HVAC systems in airports, hospitals, museums, and other public buildings running efficiently. Our pressure monitoring instruments help water and gas utilities function properly.
Dickson products get you the data you need to do your job. We maintain the world's widest selection of top-quality instruments customized to fit your monitoring needs.
The Dickson Brand: Quality Assured
Wherever data is critical, Dickson technology provides the best solutions for application and regulatory requirements. Since 1923, we've striven to incorporate the best and newest technologies into our products to bring you monitoring solutions of the highest caliber. In addition to being the first manufacturer of temperature and humidity instruments to receive A2LA certification, Dickson has built what is arguably the most sophisticated temperature and humidity monitoring applications laboratory in the world, ensuring the continued quality and accuracy of our instruments.
Don't just take our word for it: the majority of Fortune 1000 companies trust the Dickson name and use our thoroughly tested products.
Best People, Best Practices
At Dickson, we pride ourselves on retaining the most brilliant and motivated engineering talent and staff. More than half of our teammates are engineers or other technical specialists, and nearly half are involved with new product development, ensuring that the best minds are constantly seeking new solutions for our clients. The Management Association of Illinois has also recognized Dickson as "Employer of the Year."
We are always looking for ways to improve our products and our processes for both our clients and the environment. We are continually updating our packaging procedures in an effort to use fewer packing materials to save trees while still maintaining the highest shipping safety standards. Recently we also replaced our old lighting system with more efficient bulbs and fixtures that use less energy.
Supplier Directory Categories
Dickson Co., Inc. is listed in these categories: