About
World Wide Leader in Solid-liquid Separation Technologies for Industrial Processes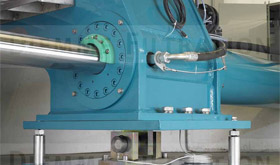 Technology in the solid-liquid separation industry has evolved rapidly during the last forty years, and from the beginning Diemme Filtration has played a very important role in this evolutionary process, by developing innovative solutions which are used for a diverse range of industrial applications.
Diemme Filtration has the widest filter press range currently available in the world market. Further to the structural design, which can be either overhead beam or side beam, Diemme Filtration's range of filter presses can vary in both size and automation level. The filter press size depends on the width and on the number of plates installed.
The Diemme Filtration filter presses can include plates of different sizes (from 500x500 to 2500x2500 mm), design (membrane plate and recessed plate), materials ( PVDF, polypropylene, carbon, etc..) The automation level can also be adapted to meet your requirements: Semi-Automatic filter presses need operator intervention during some cycle phases; Automatic filter presses require only operation supervision; or for your ultimate convenience, fully automatic filter presses can work continuously without any operator intervention.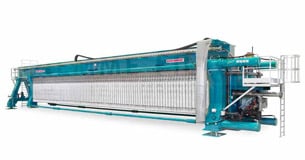 Moreover Diemme Filtration supplies, all the equipment required for the whole sludge dewatering process: pumps, air compressors, chemical reactors, tanks, clarifiers, turbo-mixers, additives make-up and dosing systems, belt conveyors, etc.
The considerable experience gained in their field, together with the unique knowledge attained through their continuous investment in research and development, has placed Diemme Filtration at the forefront of technical solutions; displayed by their proud history and reflected in their latest designs. It is this unique combination of heritage and knowledge that Diemme Filtration puts at disposal of its customers every day.
Diemme Filtration has worked for decades on a worldwide scale and can boast about 6000 installations across five continents. Their consulting and technical services are guaranteed by the widespread sales network, including direct foreign branches, together with exclusive sales agents and distributors. The company's presence in many countries with varied industrial traditions led Diemme to gain considerable experience in many markets including: mining, metallurgical, chemical and pharmaceutical, quarries, municipalities, alimentary, ceramic, glass and crystal.
Supplier Directory Categories
Diemme Filtration is listed in these categories: