About
When you need it tomorrow
Quality Chuck Jaws made in the USA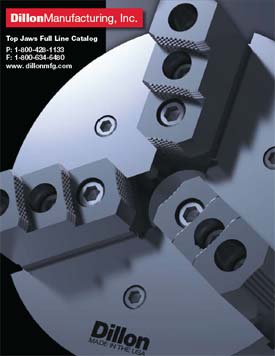 Dillon Manufacturing knows the importance of well designed Top Jaws. Download their product catalog on their website to review many of the known facts and variables that influence Top Jaw design and in turn operate safely and satisfactory job performance characteristics.
Products available include:
power chucks featuring soft & hard jaws in dimensions including 1/16 in. x 90 degrees serrations & 3/32 in. x 90 degree serrations
power chucks including self contained air & extra wide jaw varieties
medium & heavy duty manual chucks featuring tongue & groove components as well as soft, pointed, hard & reversible jaws
heavy & medium duty manual chucks for square serrated master key slots
metric power chucks up to 630 mm.
pin location jaws in soft & full grip
1.5mm x 60° and 3.00mm x 60° serrated jaws
Chuck jaws are available in American standard & acme varieties. Products feature top soft, full grip, jaw nut & hard reversible jaws. Materials include aluminum, cast iron & steel. Special hard & soft chuck jaws are available for modification to customers' specifications.
ISO 9000 : 2000 Certified QMS System
Distributors for
Bison Workholding
Supplier Directory Categories
Dillon Manufacturing, Inc. is also listed in these categories: