About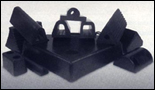 Durable Products, Inc. is a privately held company founded in 1982. They specialize in custom molded rubber products for diverse industries. Durable Products, Inc. is a growing company that has grown from 12,000sq/ft to over 105,000sq/ft. of manufacturing space. Their employment has risen from 47 employees in 2000 to 126 employees in 2004 and sales have grown from $5MM 2000 to an estimated $14MM 2004.
Durable Products, Inc.'s Process Capabilities Include:
Twin mills and calender line – capable of milling and calendering rubber sheet up to 64" wide.
Raw Material Processing – cracker mill, Barwell preformer and calender line capable of making rubber blanks for compression molding.
Extruder – extrusion profiles up to 8" in diameter primarily for dock bumpers and rubber profiles.
Autoclave Molding – two autoclaves, one 5'X12' five mold capable, and one 8'X10' eight mold capable.
Compression Molding – twenty-four presses, sizes range from 14"X14" to 42"X54".
Opencure Molding – Eight opencure molding stations.
Paint/Gravure Print facility – enclosed temperature controlled paint and Gravure printing line 60' long and 6' wide.
Foam-in-Place – three station back foaming cell.
Water-Jet cutting – Computer controlled robotic water-jet cutting system.
Other capabilities include die cutting, backing application, in house machine shop and tool finishing.
Durable Products, Inc.'s business segments include heavy truck products, impact protection products, industrial / commercial matting, off-highway products, caster wheels, and other miscellaneous segments.
Supplier Directory Categories
Durable Products, Inc. is listed in these categories: