About

Duracell manufactures alkaline batteries in many common sizes, such as AAA, AA, C, D, and 9V. Lesser-used sizes such as AAAA and J size batteries are also manufactured along with a range of "button" batteries using zinc-air, silver-oxide, and lithium chemistries, used in calculators, watches, hearing aids, and other small devices.
Duracell also manufactures specialty batteries, including NiMH rechargeable batteries and batteries for cameras, watches, hearing aids, etc. Their two main battery brands are "CopperTop (Plus)," marketed as longer-lasting, and "Ultra," directed mainly at users of digital devices and devices that need more power. Duracell also has a line of lithium chemistry batteries and products, now manufactured outside of the U.S.
In recent years, Duracell's innovations expanded to include new battery designs with their prismatic batteries. Prismatic cells were made available in both alkaline and lithium designs. In 2006, Duracell introduced "Power Pix" batteries with NiOx technology, designed to supply longer life in digital cameras and other high-drain devices by up to twice the number of photos typically achievable with alkaline batteries.
Duracell PowerForward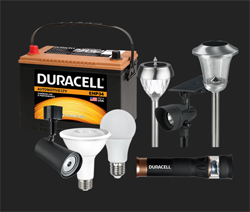 Delivering power where it's needed the most.
When natural disasters hit and power is lost, Duracell PowerForward reconnects communities.
Natural disasters like hurricanes, tornados and floods are happening more frequently every year, causing power outages for millions of people. To assist those in need and to help communities recover, Duracell created the PowerForward program.
Since 2011, Duracell PowerForward has been helping affected communities across the country by distributing free Duracell batteries, charging mobile devices, and providing Internet access to those in need so they can connect with family.
Supplier Directory Categories