About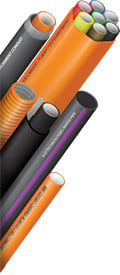 Dura-Line is a leading international manufacturer and distributor of communication and energy infrastructure products and systems including conduit, cable-in-conduit, pipe, and accessories. At Dura-Line, we provide the "mission critical" elements of networks and infrastructure. We take that responsibility very seriously. Our experienced sales team and technical support staff, our commitment to product quality and availability, and our ongoing product innovation coupled with our unmatched industry experience give us the ability to support your specific installation needs, wherever you need us.

A unified system of Dura-Line products provides for protection and fast, safe installation of communication networks, power cables, and pressure pipe for a wide variety of markets, including:

• Telecommunications, including CATV networks
• Energy and electrical transmission and distribution conduit
• Transportation networks including intelligent highways and street lighting
• Municipal and Industrial pipe for potable, waste, and process water and gases
• Enterprise and Data Networks for hospitals, universities, and industrial automation

Dura-Line Meets American Recovery and Reinvestment Act Provisions. Dura-Line produces all of its pipe products in the United States. These products are compliant with the Buy American requirement of the 2009 American Recovery and Reinvestment Act.

Dura-Line is part of Mexichem, one of the biggest producers of plastic pipe and connections worldwide and one of the largest chemical and petrochemical companies in Latin America. Mexichem serves a wide spectrum of industries through three main business groups: Fluent, Vinyl, and Fluor. Dura-Line operates in the Mexichem Fluent Business Group, which is a collection of global brands that provide infrastructure solutions worldwide. Fluent Products make invisible connections that drive data pathways, water management, earth stability, and the transport of natural gas.
Supplier Directory Categories