About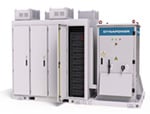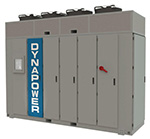 Energy Storage Systems, Inverters, DC Converters, Rectifiers, Switchmodes and Custom Transformers

Since 1963, Dynapower has designed and built power electronics that meet some of the most challenging power conversion demands for Fortune 500 companies, small enterprises, research institutions, and government agencies the world over. Dynapower designs and builds all manner of power electronics — energy storage inverters, DC converters, rectifiers, custom transformers, frequency converters — in our 150,000 square foot vertically integrated facility in South Burlington, Vermont.

Today, not only does Dynapower continue to provide power electronics for metal finishing in the automotive industry, but also architectural, aeronautical, medical, recreational, and consumer electronics industries. Our global footprint has expanded, charting the course for many new power conversion applications, such as helping to create clean drinking water, turning trash to energy, generating hydrogen to fuel zero-emission vehicles, recovering and recycling metals from discarded electronics, and sterilizing food. We have enabled utilities to turn off coal-fired plants, and island nations to uncouple from pollution-causing diesel generators, safely and reliably harnessing renewable energies for wind and solar.

Dynapower works with the United States Department of Energy to harden and innovate our nation's grid. We work alongside the Army, Navy, and Air Force to power the defense of our country and deter aggression worldwide. Pushing the boundaries of science and innovation, we collaborate with the world's top universities and national laboratories.

Daily, we work toward bettering the world through power conversion. We invite you to join us on our journey to discover the possibilities of power conversion technology, and how it can have a positive impact on the lives of millions worldwide.
Supplier Directory Categories
Dynapower Corporation is also listed in these categories:
Technical Articles

Powering a revolution in aviation
(Power Inverters)
In South Burlington, Vermont, a quiet aviation revolution is underway. Kyle Clark and his team at Beta Technologies are fast at work developing a battery-powered electric airplane that could... (
View Full Article
)