About
EBG concentrates its attention on the leading edge of electronic component technology
EBG has been a leading manufacturing resource of standardized and customized precision, high voltage, high power non-inductive thick film resistors since 1977.
Avoiding the mass produced commodity items with less exacting requirements, EBG develops highly reliable product lines to fill the creative requirements of the design and development engineer in today's fast moving world.
Our company has always welcomed the opportunity to participate in new product development for engineers with imagination and vision. If its within the scope of our technology, computer programming, laser isolation and processing, our engineers will work with you...and for you to help solve your resistor needs now and in the future.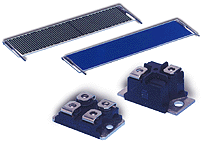 High voltage, high power products
EBG's resistive components offers such characteristics as very low and controlled temperature and voltage coefficients, high stability, high temperature operations and very tight tolerances. All products comply with applicable environmental tests as required by European and USA military specifications.

The EBG resistor product lines consist of an extensive variety of metal oxide products made with our exclusive METOX-FILM formulation. We offer different style options such as flats, cylindricals, dividers and networks.
Supplier Directory Categories