About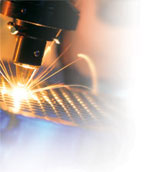 Offering both Laser Welding and Electron Beam Welding technologies allows EBI to attain weld depths from 0.001" to 3" in vacuum, inert or open air environments. They will work with you to choose the right low heat input welding service for your application.
Since 1965, EB Industries welding job shop has provided welding services for over 100 Fortune 500 companies, including Lucent Technologies, Applied Materials, Raytheon Systems, Dresser-Rand, JDS Uniphase, Motorola, Lockheed Martin, General Electric and Howmedica.
EBI specializes in providing low thermal stress welding services for the leaders in the fields of Telecommunications, Semiconductor Manufacturing, Fiber Optics / Photonics, Microelectronics, Medical Device Manufacturing, Sensors, Aerospace, Space and Resource Exploration.
Their Total Quality Management (TQM) system guarantees proper handling of your parts from receiving, through processing and shipment back to you. EB Industries is also ISO 9001:2001 registered, and continuous improvement is always a top priority.
Whether your part is engineered to MIL or AMS specifications, or to your own unique design requirements, their technical staff work closely with you from initial concept to project completion.
Prototype through production, they will show you why EB Industries attention to the customers needs is vital to their business, and has been the secret to their longevity.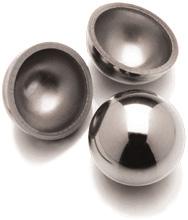 EB Industries is now offering electron beam welded Hollow Balls through Airball Products, LLC. Airball was created to fill the need for customers requiring a strong, lightweight, precision hollow ball. Although Airball specializes in 1" diameter 440 stainless balls used in ball transfer units, other grades, metals, and sizes are available. Airball Products was created to design, market, sell, distribute and most importantly, ensure the quality and effectiveness of the stainless steel hollow balls in weight critical applications.

Although the company is new, the product is quite mature. Stainless steel hollow balls had been manufactured for over eight years at EB Industries, LLC. EB Industries, with almost forty years of electron beam welding experience and having produced millions of hollow ball blanks, has perfected the electron beam welded hollow ball.
Airball Products now takes over the manufacturing of this ball with continued support from EB Industries and it's longtime vendors. They urge you to test Airball Products' hollow balls and see for yourself why electron beam welded hollow balls are the highest strength balls at the best price.
Supplier Directory Categories
EB Industries, LLC is listed in these categories: