About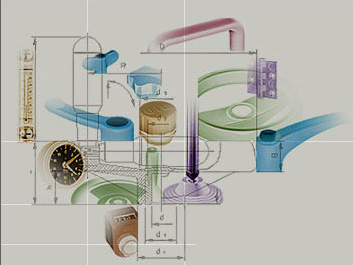 Founded more than half a century ago, Elesa is the world's leading manufacturer of plastic elements and accessories for industrial machinery and equipment with the brands Elesa Standards®, Ergostyle® by Elesa, and ELESA-Clayton®.

20,000 product codes for an annual production output of tens of millions of pieces, more than 100 patents registered around the world, 23 International industrial design awards and the ISO 9001 quality certification obtained in 1993 represent a brief compendium of Elesa's business achievements.

Elesa's success is based on an inherent awareness of "quality" design and ergonomic research, a company culture strongly geared towards product quality, the affirmation of its brand as an assurance of quality and the satisfaction of customer needs.

A modern ERP (Enterprise Resource Planning) integrated computer technology system also manages and controls every step in the work cycle, from order acquisition to delivery of the finished product.

The combination of these factors makes Elesa the main point of reference not only for industrial machine and tool manufacturers but also for the overall industrial market.
Supplier Directory Categories
Elesa U.S.A. Corporation is also listed in these categories: