About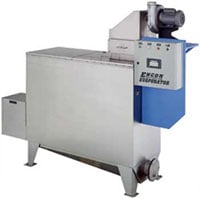 ENCON Evaporators manufactures, services and supports the ENCON Wastewater Evaporators. Their evaporator products are engineered with safety and efficiency as top priorities and to give their customers the best evaporator solution for processing wastewater. Each evaporator system can save you tens of thousands of dollars in dramatically reduced disposal costs, reduced labor, and elimination of monitoring and sewer fees.
There are alternative technologies to consider for handling industrial wastewater such as chemical treatment and membrane technology. ENCON Evaporators's web site will help educate you on these various options and compare them to their evaporator process. Once you know the facts about evaporators you'll be able to make an informed decision.
No two wastewater applications are alike. ENCON Evaporators's Application Engineers and lab technicians will work with you to qualify your wastestream and to help make the correct evaporator selection for your application. Below is an overview of ENCON Evaporators's different evaporators.
ENCON Wastewater Evaporator Product Offerings Include:
The ENCON Mechanical Vapor Compression (MVC) Evaporator is the newest and most efficient system to join the ENCON product line. The MVC is a breakthrough in wastewater recovery technology that converts dirty wastewater into a high quality distilled water for only $0.01 -0.02 per gallon! These highly automated systems have a compact footprint with standard evaporation capacities of 40 - 1800 gallons per hour.

The ENCON Thermal Evaporation Systems dramatically reduce disposal volumes and eliminate discharge effluent by converting wastewater to clean water vapor through an exhaust stack. These systems are heated by gas, propane, steam, #2 fuel oil, diesel, kerosene, and electricity and are available in numerous corrosion resistant alloys.

The ENCON Thermal Distillation Systems allow companies to recover their industrial wastewater as high quality water for reuse in their industrial processes.

The ENCON Drum Evaporator is designed to dewater small volume applications and more concentrated slurries. It is also extremely effective as a drum heater and parts dryer.

ENCON Evaporators has also developed the ENCON Waste Oil Evaporator. This system evaporates wastewater by heating with free waste oil and is an excellent alternative for customers generating both. This system allows you to get rid of your waste oil and wastewater problems with no operating cost!!
ENCON Wastewater Evaporator Quality Standards
The ENCON wastewater evaporator treatment system is designed with safety as a top priority. All systems are designed with consideration for industrial standards including: NFPA 54, 58, and 86, National Electric Code, and UL508. For their Canadian customers CSA/CUL and TSSA standards are being met on ENCON Evaporators. Safety along with efficiency and quality of fabrication are hallmarks of the ENCON Wastewater Evaporator system. Please consider the various ENCON Evaporator offerings for your wastewater handling and process wastewater recycling projects.
Supplier Directory Categories
ENCON Evaporators is also listed in these categories:
Technical Articles