About
Solutions For Mobile & Industrial Applications That Have To Work
Eaton pumps, motors, transmissions, valves, cylinders, controls, hose and fittings offer a unique combination of proven technology and innovative design that translates directly into reliable performance and enhanced uptime. Whether you need a single component, a custom-engineered solution, or anything in between, Eaton is the partner of choice for mobile and industrial applications that simply have to work.
Whether your products move, turn, shape, mold, lift, dig, or haul, you can depend on Eaton's hydraulic products to deliver the performance you need to stay competitive. Eaton's unwavering dedication to leadership in mobile and industrial applications has made Eaton one of the world's preferred suppliers of hydraulic solutions.
When The Job Calls For Hydraulic Muscle.
Eaton's hydraulic components, fluid conveyance and systems keep their customers one step ahead of the competition. Onroad, off-road, agriculture, mining, marine, industrial, even on the lawn and in the garden — when the task requires reliable, efficient, cost-effective hydraulic muscle, Eaton's hydraulics deliver engineered solutions you can count on, backed by service designed to ensure your complete satisfaction.
Engineered Products Address Unique Needs.
When the need goes beyond their wide range of standard product offerings, Eaton can offer OEMs a customized solution with world-class global engineering centers.
Global Distribution Means Global Support.
Eaton supports your products with more than 12,000 distributor locations worldwide. Service, parts, experienced technicians, and instant access to Eaton's hydraulic knowledge base and manufacturing resources are all as close as your local Eaton Hydraulics distributor.
Mobile Applications

Agricultural
Eaton has provided the technology to power agricultural equipment for over fifty years covering all types of machines and all types of functions. From innovative steering and sophisticated electrohydraulic valves, tough hoses and fittings, to efficient pumps and motors, Eaton provides a full range of products to meet this market's needs.

Construction
Eaton's products provide compact, powerful products to meet the demanding needs of the construction market. Components with fast, accurate response help meet the challenges for this market.

Earthmoving
Eaton's compact, powerful components help put the power where it's needed. From propel motors and swing drives to auxiliary work systems, Eaton has many solutions to the demanding requirements of earthmoving applications.

Forestry
Eaton provides rugged, long life hydraulic components for the demanding needs of the forestry market. Compact, powerful components help put the power where it's needed.

Material Handling
Eaton's product range for the material handling market is second to none. Whether for propel circuits, steering functions, or auxiliary work circuits, Eaton provides a full range of products to meet the demanding needs for these machines.

Truck and Bus
Eaton hose and fittings, fan drive systems and HLA® systems (a leader in hybrid power train solutions) set a standard for truck and bus applications.

Utility/Vocational
Versatile, complete system solutions are available with the broad product range that Eaton provides. From innovative steering and sophisticated electrohydraulic valves, tough hoses and fittings, to efficient pumps and motors, Eaton provides a full range of products to meet this market's system needs.

Mining
Eaton is the preferred choice for many of the auxiliary systems on mining equipment. Eaton products can handle the harsh environments and the rigorous duty cycles, and can survive the tough applications.

Industrial Applications

Automotive
Eaton products are trusted and specified by the world's leading automakers.

You can count on Eaton aftermarket support anywhere in the world.

Machine Tools
Eaton products enable machinery to deliver high productivity and consistent accuracy for metal cutting machinery.

High pressure and flow components – piston pumps, cylinders and cartridge valves, provide the muscle and control required for metal forming machinery.

Molding
Strong application support coupled with a full range of hydraulic products – wide range of cylinders, vane and piston pumps, cartridge valves and manifolds – provides you with a single source solution.

Oil & Gas
Eaton offers the most robust line of customized hydraulic solutions for both land and sea based oil & gas exploration, production and refinement platforms

starting with Eaton's specialized rod coatings on large cylinders, heavy duty pumps, high pressure hose for subsea production and no leak tube fittings. From motion compensation systems, jack pumps, to top drives, blow out preventers, iron roughnecks, winches and crane systems when you need reliable performance, count on Eaton hydraulic systems.

Port Machinery
Eaton understands the fast paced action of dockyards. You can rely on Eaton components to provide high productivity with maximum efficiency.

Power Generation
Eaton provides the complete, rugged and customized hydraulic control systems for power generation plants of all platforms including wind power, hydropower and thermal power. Eaton has the specific solutions for the renewable energy industry that are environmentally friendly.

Primary Metals
Eaton high pressure pumps, cylinders and valves are the ideal components for delivering the muscle required in these rugged applications. They can handle the heat and provide long life in mill environments.
World-Class Product Lines
You recognize the names because they are world-class leaders in their own right and integral parts of Eaton Hydraulics Group's worldwide reputation for quality and performance in hydraulic components, systems, fluid conveyance, service, and support.
Aeroquip®
Hose, fittings, adapters, couplings and fluid connectors for all pressures in industrial, aerospace, and automotive applications.
Airflex®
Industrial clutches, brakes, and accessories for oil and gas, mining, marine, metal working, and other specialty applications.
Boston®
Industrial hoses available in sizes 1/4" to 8" I.D. for chemical, petroleum, material handling, and food industry applications.
Char-Lynn®
Hydraulic steering units, general purpose motors, spool and disc valves, and Valve-In-Star™ (VIS) motors for both mobile and industrial applications.
Eaton®
Hydrostatic transmissions, valves, piston and gear pumps, and Valve-In-Star™ motors primarily focused on mobile equipment applications
Hydro-Line®
Industrial cylinders in a range of sizes to meet the motion control needs of machine and equipment builders for products ranging from automobile production to large hydro-electric and off-shore drilling applications.
Synflex®
Lightweight, high pressure, abrasion and chemical resistant thermoplastic hoses and tubing for a range of industries including transportation, beverage dispensing, fluid power and specialty applications.
Vickers®
Vane and piston pumps, valves, cylinders and filtration products for industrial, aerospace, marine and defense applications.
Walterscheid®
Hydraulic tube connectors and fittings for the mobile and stationary markets.
Weatherhead®
Hydraulic hose, hose ends, assembly equipment, tube fittings, couplings and support accessories for construction, mining, agriculture, truck and bus applications.
Sustainability has always been at the heart of Eaton's products. That heritage has become an advantage as customers seek to partner with them to develop more efficient – and innovative – products and services.
Eaton's Hydraulics Training Services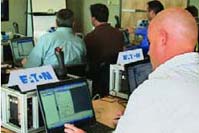 At Eaton, they don't just talk about training, they deliver. With over 30 technical and product courses, Eaton also offers numerous training aids including manuals, multimedia, and hands-on equipment. The investment made in training today can pay off with significant results for the future.
Facilities
Located in Maumee, Ohio (Toledo area) and Eden Prairie, Minnesota,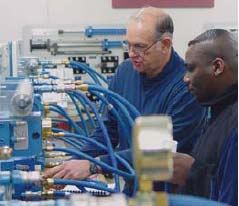 both sites are fully staffed to serve training classes.
Customized On-site Training
Eaton's Hydraulics Training Services offers specialized, custom-tailored training at one of their facilities or your location. Eaton provides simulators, cut-aways, take-aparts and other training materials that may be required.
Contact Information
Call Eaton at 800-413-8809 to obtain additional information or a quote. hydraulicstraining@eaton.com
Register for courses or order training products on-line at:
www.eatonhydraulics.com/training
Hydraulics Group Europe
Route de la Longeraie 7
1110 Morges
Switzerland



| | |
| --- | --- |
| Phone: | +41 (0) 21 811 4600 |
| Fax: | +41 (0) 21 811 4601 |

Hydraulics Group Asia Pacific
Eaton Building
4th Floor, No.3 Lane 280 Linhong Rd. Changning District
Shanghai 200335
China


| | |
| --- | --- |
| Phone: | 86-21-5200-0099 |
| Fax: | 86-21-5200-0400 |
Supplier Directory Categories