About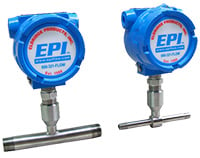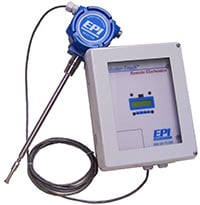 Eldridge Products, Inc. (EPI) is the premier thermal mass flow meter manufacturer in the world. Our company produces a wide offering of thermal mass flow meters for gas flow meter measurement and gas flow control. EPI, founded in 1988, has been an industry leader for over 25 years, specializing in manufacturing thermal mass flow meters and other flow meter related technology.

Thermal Mass Flow Meters For A Wide Variety Of Applications

• EXPLOSION PROOF
This series is great for where agency approvals are required for Explosion Proof area locations.

• HIGH PURITY
Design for a variety of applications including Semiconductor and Display, Pharmaceutical, Biotechnology, Food and Beverage and other processes that require a clean hygienic flow meter.

• HIGH TEMPERATURE
This series meter is great for high temperature application.

• MULTIPLE SENSORS
Provides the ability to average multiple sensors for one output flowrate.

We do our flow calibrations using a variety of gases in order to match our customers needs. Any gas that is not specifically on our list can in most cases be substituted with another gas or mixture of gases. Gases on our list include, Air, Argon, Ethylene, Ethane, Propane, Methane, Carbon Dioxide, Helium, Nitrogen. Methane is use as a substitute gas for Natural Gas. Air is used as a substitute gas for Oxygen. Other mixes determined based on customer gas composition.
Supplier Directory Categories
Technical Articles

Flow Meter Considerations
(Flow Sensing)
English Arabic Chinese (Simplified) Dutch Filipino Finnish French German Hausa Hebrew Indonesian Italian Japanese Korean Malay Polish Portuguese Punjabi Russian Spanish Thai Turkish Vietnamese Zulu... (
View Full Article
)

HVAC & Air Vent Meters
(Flow Sensing)
English Arabic Chinese (Simplified) Dutch Filipino Finnish French German Hausa Hebrew Indonesian Italian Japanese Korean Malay Polish Portuguese Punjabi Russian Spanish Thai Turkish Vietnamese Zulu... (
View Full Article
)