About
Who Is Electron Beam Engineering?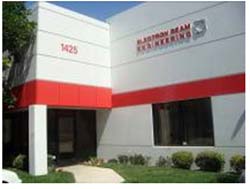 Electron Beam Engineering was established in 1991 by CEO Richard E. Trillwood. Through the years, many customers have relied upon their vast knowledge of electron beam and laser beam welding to assist them with their manufacturing and design projects. They were even recognized for their work on the INMS and the GCMS projects with a Group Achievement Award by NASA. It is their goal to exceed the expectations of their customers in price, delivery, and quality.
Electron Beam Engineering is committed to maintaining a high level of technical excellence and customer service. Their quality assurance program is certified to ISO 9001:2000 and AS9100 and their welding program is Nadcap accredited.
Their new 11,000 square foot facility houses their electron beam and laser beam welding job shop operations, with an additional department for their electron beam equipment manufacturing.
Electron Beam Engineering is here to help you with the design or manufacture of your electron beam or laser beam welding projects or any equipment needs you may have. Taking a moment to speak with an experienced welding expert in the early stages of a project can be very beneficial in terms of material selection, joint design, cost, and on-time completion.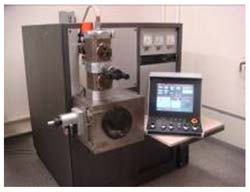 Electron Beam Machine Manufacture
Electron Beam Engineering is the only electron beam welding job shop in the United States that also designs and manufactures its own line of precision electron beam welders. Their new "Beamer" model is available with chamber sizes from 12" to 36" cubed, 60 KV, and up to 5 KW of power. Special chambers and tooling can be designed to optimize your production throughput especially for small high volume component welding.
If you are considering the purchase or lease of an electron beam welder please contact them with your requirements. They offer a quality product for a very good price. All manufactured right in Anaheim, California.
Tooling
Electron Beam Engineering offers a variety of custom tooling for welding applications. Please take a moment to look at their website to view their complete line of welding positioners and manipulators as well as their job shop operations.
Just remember when you think WELDING - think Electron Beam Engineering – A Perfect Place for all your welding needs!
Visit them on the web at www.ebeinc.com
Supplier Directory Categories
Electron Beam Engineering, Inc. is also listed in these categories: