Profile Home
About
Ellsworth Adhesives is a solutions provider for applications and manufacturing processes that utilize adhesives, specialty chemicals and related equipment from top manufacturers. Ellsworth Adhesives also provides custom chemical formulation to meet exact application requirements or custom packaging of chemicals in cartridges, kits or syringes for easy application in precise amounts.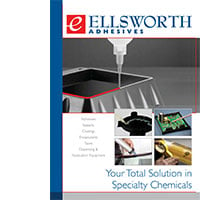 Ellsworth Adhesives' specialty chemical knowledge spans across multiple industries including electronics, lighting, automotive, aerospace, medical and general assembly. A global network of Engineering Sales Representatives is available to assist with the integration of adhesives through the design, supply and production processes. Ellsworth Adhesives offers accurate documentation, labeling and shelf-life control. ISO 9001:2008 and AS9120A certified.

Offering a complete selection of:
From top manufacturers including:
Dow Corning, Henkel, Dymax, 3M, LORD, Humiseal, Sika, Techcon & many others

The Adhesive Experts
The Glue Doctor® represents Ellsworth Adhesives' unique capability for helping customers find the right assembly solution for their business.
Engineering Sales Representatives (ESR) and Technical Service Personnel
More than 50 representatives in North America and over 100 globally
Specialize in working with customers on industrial applications
Combine industry leading material and equipment suppliers for the total solution
Assist customers in qualifying, sourcing, purchasing, stocking and using products seamlessly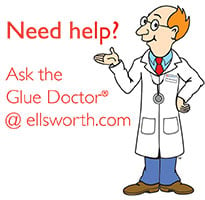 Ellsworth Adhesives also offers these products and services:

Adhesives Experts around the Globe:
Ellsworth Adhesives operates sales offices and warehouses in the United States, Canada, Mexico, United Kingdom, France, Spain, Germany, Sweden, Finland, Denmark, Brazil, China, Hong Kong, Malaysia, India, Indonesia, Taiwan, Vietnam, Singapore, Thailand and Australia.

Discover more:
Ellsworth Adhesives Video | Line Card | eNewsletter | Catalog Download
Ellsworth Adhesives is listed in these service categories:
Technical Articles