About
For over 50 years Emerson Bearing Co. has had "Bearings on the Brain". They are the Ball and Roller Bearing experts serving the OEM and Maintenance markets throughout the United States as well as the international markets. Their success is based on: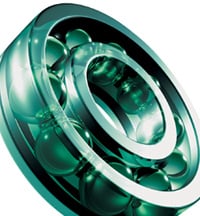 The Right Bearing at the Right Price
In this competitive world economy it is critical that they provide you with a bearing that meets your engineering requirements at an affordable price. With their worldwide sourcing network they can offer bearings at multiple price points from factories in the USA, Europe and Asia.
Market Solutions Approach
They target specific industries, learn about their particular uses and bearing needs, and supply exactly what is required. They have specialists on staff who understand these markets and can respond promptly. Visit their Market Solutions page to view their recommendations for a wide variety of markets. If your market is not listed, they would be glad to create a solution for your needs.
Bearing Detective
Looking for that hard to find bearing? If they don't have what you need in their 25,000 sq. ft. warehouse they will search their worldwide network to find it, whether it's a 3mm ID gyroscope bearing or a 480mm ID spherical roller bearing for a paper mill. They can also help you identify your bearing. Just tell them the dimensions and they'll do the rest.
Service. Service. Service.
They can set up buy programs to suit your unique needs, whether it be fixed price buy programs, monthly shipping, holding critical back up stock and more. And when you need it they offer several freight prepaid plans to suit your circumstances.
Their People…Their greatest asset
When you call you will always be talking to someone who has at least 15 years of bearing experience and knowledge. It's their job to provide you with the service and know how you deserve.
Bearings and More
In addition to ball and roller bearings they also carry Oil Seals, Roller Chain, Linear Motion, Hydraulic Cylinders, Retaining Rings and more.
Supplier Directory Categories
Technical Articles