About

Emhiser Micro-Tech is a unique, innovative, and rapidly growing company in the miniature voltage controlled oscillator (VCO) industry. Emhiser was founded following years of effort to locate a reliable, quality minded VCO manufacturer. Based on the belief that a VCO manufacturer can be reliable and offer customer service without jeopardizing product quality Emhiser Micro-Tech set out to improve the standards of the commercial VCO market.

Initially starting with only a few customers, Emhiser has quickly expanded and currently works with an array of companies that deal in the commercial wireless, medical, space, and instrumentation markets. Regarding every customer as a business partner, Emhiser Micro-Tech aims to provide superior customer support and service not usually found in the VCO industry.


Emhiser Micro-Tech tirelessly strives to break the mold associated with commercial VCO manufacturers by designing, producing, and marketing a product committed to total quality, reliability, and customer satisfaction. They understand the difficulties associated with being a customer and are therefore dedicated to providing customer support and loyalty, and a reliable quality product.

Using the knowledge gained and proven in the military arena, Emhiser Micro-Tech designs and produces a complete line of VCOs in a variety of packages covering the frequency range of 5 MHz to 12 GHz. The intra-company design standards set for the military grade product line carry over to the commercial product line providing a rugged unit capable of withstanding vibration, shock, temperature, and other environmental extremes.

The engineering staff at Emhiser offers a wide variety of VCOs derived primarily from customer specific requirements. These designs are available in the standard industry package outlines or can be implemented in a custom configuration at a nominal charge. While common VCO specifications are available, Emhiser concentrates its efforts on custom designs often waiving the NRE charges in order to support new designs and technology advancements. Customer satisfaction is a primary goal at Emhiser, and therefore every effort is made towards meeting the customer's needs in a timely and cost effective manner. Should your application require specifications not included on their website, please call them at (775) 345-0461.



Emhiser TELE-TECH Corporation is an engineering and manufacturing firm specializing in design, development and production of radio frequency (RF) and microwave signal processing products in the low frequency ranges from DC to 5 GHz.
Standard and custom RF products include mixers, couplers, power dividers, transformers, phase shifters, IQ networks and switches.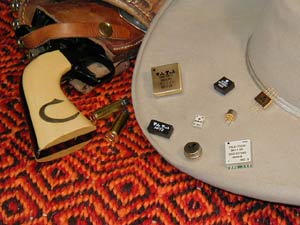 Emhiser TELE-TECH's "quick response" technical staff works very closely with customers in developing new products, redesigning existing products, and can provide a variety of products discontinued by other RF component manufacturers. All of their products are built to the highest quality standards and are 100% tested to meet and guarantee customer specifications and performance requirements.
With twenty years of engineering, testing and manufacturing experience and an ISO 9001 certified quality assurance program, Emhiser TELE-TECH provides the high quality and high performance prototypes, pre-production parts and small to medium sized production builds for its worldwide cellular, PCS, military, medical, security, and cable TV customers.
If you are considering or searching for an organization that is willing to work with you on a professional and personal basis in supporting your RF requirements, then they are worth contacting.
If Emhiser TELE-TECH's technical capabilities are within the realm of your requirements, they can guarantee you will not be disappointed with the effort they put forth in developing a mutually beneficial relationship with their customers.
Emhiser Research has recently acquired the equipment and expertise to design and manufacture precision cavity filters. The new division, Emhiser Fil-Tech, provides the industry with the most reliable filters and diplexers.
Fil-Tech's products cover frequencies from 70 MHz to 20 GHz. The proprietary one-piece cavity design eliminates inter-modulation distortion (IMD) effects and provides superior rigidity and protection from temperature extremes.
Many of Fil-Tech's products are stocked in volume. Additionally, their experienced staff will respond to your filter and diplexer needs promptly. Product customization and engineering is available at minimal additional costs. Many times no engineering charge is requested as most requests involve a product that already exists.
With over 200 customers world wide, with representatives to assist you, you need only to place a call to their home office to talk to a representative that will help you.
Supplier Directory Categories